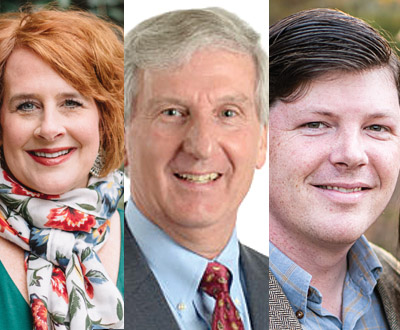 From left: Peterson, Schoonmaker, Wood

Incumbent 5th District Knox County Commissioner John Schoonmaker will face fellow Tan Rara Oeste resident Clayton Wood in the upcoming Republican primary Tuesday, March 3, which kicks off with early voting starting Wednesday, Feb. 12. Winner of the Republican race will face Democrat Kimberly Peterson — running unopposed in her primary — in August.

Peterson, who has lived in the 5th District for five years and in Knox County for 20, said she was asked to run for County Commission by the 5th District Democrats.

She sees a need to better address the county's explosive growth and planning hurdles, and focus on infrastructure.

"We need a solid strategic plan for the 5th District, and we need more of an overall community vision of its real estate," she said.

Born in Maryland — the only child of U.S. Navy veteran parents — Peterson earned a bachelor's degree from James Madison University, and was active in organizations "dedicated to ensuring equity, responsible environmental stewardship and giving everyone a voice in government," she said on her Facebook page.

Her work as a development director for non-profits includes recently volunteering as spokesperson for the local chapter of the Women's March and with AKIN, Allies for Knoxville's Immigrant Neighbors.

"All these local organizations are desperate for volunteers. And as we work, getting people engaged with the political process, that is what the local Women's March, for example, has become," Peterson said.

She and her husband, Greg, who is department head for the Computer Science/Electrical Engineering division at the University of Tennessee, have a blended family of six — the youngest of whom is a special needs student in the Knox County Schools system, which Peterson said has put her on the front lines where education is concerned.



Schoonmaker is running for his second elected term. He was appointed to serve out Dr. Richard Briggs' unexpired term in 2015.

As the 5th District County Commissioner, his three goals were securing a new West Knox County Senior Center, accomplished earlier this year in Farragut; establishing a West Knoxville precinct for Knox County Sheriff's Office, which has since opened along Parkside Drive; and ensuring installation of the shoulder safety improvements along Northshore Drive near the Concord Road roundabout, which were completed in 2019.

Schoonmaker also lobbied heavily for continued funding of the $7 million dollar Canton Hollow Road improvement project starting in July.

"The next project on Northshore Drive will be a new turning lane into The Cove Park," he said. "That will begin in May."

On Commission, Schoonmaker is chairman of the Finance Committee and the Legislative Affairs Committee and serves on the Knox County Investment Committee and Audit Committee.

Schoonmaker also is the first Knox County Commissioner in 20 years to be elected to the Tennessee County Services Association Board of Directors, which is the umbrella group for the Association of County Mayors, Tennessee County Commissioners Association and the Tennessee County Highway Officials Association.

Schoonmaker and his wife, Heather, have been married for 40 years and have two children.



Wood spent his youth in Wears Valley, where his parents, Jim and Susan Wood, founded and operate Wears Valley Ranch Children's Home. He was homeschooled, then "ran out of lasses," took the ACT, and began attending classes at the University of Tennessee at age 15.

Wood followed up an undergraduate degree in English literature with law school at Washington and Lee University, then practiced constitutional law with Jay Sekulow for a decade.

After a stint practicing corporate law, he felt called to the ministry. "I was working at a tech company, but felt I was supposed to do another job," Wood said.

He had been considering what to do next when an out-of-the blue phone call sparked his next chapter — caring for orphans overseas.

While there, however, Wood said he realized needs were great state-side, too, and was called to volunteer in the Lonsdale Community, where he became the executive director of Thrive, a ministry addressing spiritual, emotional, academic and physical needs of children/youth.

The ministry, which has since branched out into Park Ridge, works with the Great Schools Partnership.

Wood and his wife, Danielle Wood, have five children.