Village Green community swim teammates mark Gators' 10th anniversary of 'city' dynasty start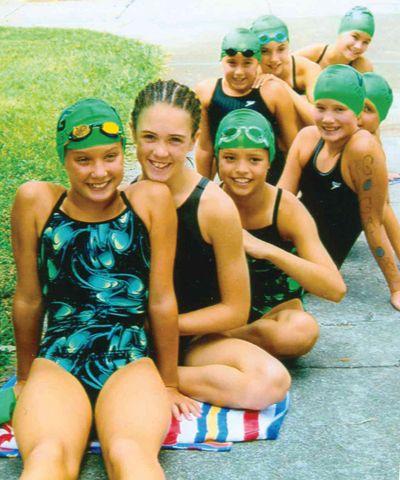 As children with Village Green Gators, in plain view from front to back, were Martha Dinwiddie, Gilbertson Rawlins, Rebecca Jameson, Love, Samantha Starnes, Barker Carlson and Eilerman.

The formula for eight young women being bonded, perhaps forever, thanks to childhoods spent on Village Green Gators' community swim team is a combination of sharing similar ages, talents and challenges in the pool; carnivals; slumber parties; beach trips; encouraging parents; and two fun, yet intense, coaches.

And comforting each other during tough times.

It doesn't matter that these eight who graduated high school in either 2012 or 2013 — Ali Gilbertson, Martha Dinwiddie, Elyse Eilerman, Avery Anderson, CC Hermes, Ellie Osborne, Katherine Barker Carlson and Lauren Love — are scattered throughout Tennessee, the Southeast and even in California.