Barnes' 3s lead Mayfield to all-time FHS girls win mark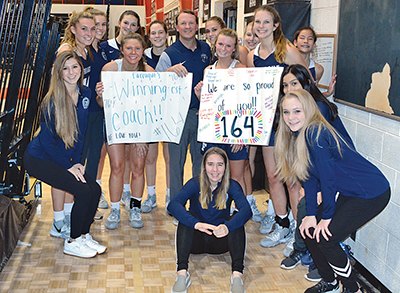 Ith his Farragut Lady Admirals players helping him celebrate, Jason Mayfield was recognized as the school's all-time winningest varsity girls head coach. He picked up career win No. 164 after a 74-10 romp at Lenoir City Friday, Jan. 10, led by eight 3-point baskets from junior guard Macy Barnes.

LENOIR CITY — One apparent Farragut High School girls basketball program record, most three-point baskets in one quarter, helped lay the foundation for head coach Jason Mayfield's milestone victory.

In his eighth season as Lady Admirals' skipper, Mayfield became the program's all-time winningest coach — 164 victories — after junior guard Macy Barnes nailed six 3-point baskets in the first quarter to help dismantle Lenoir City 74-10 Friday night, Jan. 10, at LCHS.

With team members making a couple of "congrats coach" posters for a team photo after the game, Barnes said about Mayfield, "I think he does a great job. He expects a lot out of us when we do get on the court (such as) boxing out and defense and running the floor."

As Farragut improved to 13-5 overall, 4-1 in District 4-AAA action, the team's four seniors also weighed in on Mayfield's milestone.