Admiral kicker, defense clutch verses Wildcats; Jefferson Co. is HC foe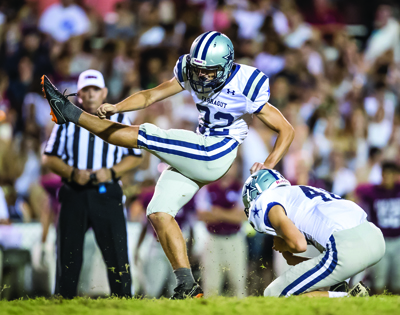 Sophomore Daniel Bethel's 46-yard field goal, held by sophomore Brady Hodges, put FHS up 17-14 late in the third quarter.

OAK RIDGE — Overcoming a disastrous 99-yard interception return for a touchdown early in the third quarter, Farragut's clutch defense, a 46-yard field goal and an 18-play, 64-yard drive eating almost eight minutes off the clock in the fourth quarter paid dividends.

A huge sack sealed the deal.

With the Admirals leading Oak Ridge 20-14 in the final 98 seconds, the Wildcats drove to near midfield.

Alec Keathley and Neyland Harmon then forced a fumble after hitting Oak Ridge quarterback Herbert Booker, and FHS teammate Caleb Kuhn recovered to seal victory with just 34 seconds to play. Farragut stayed unbeaten, improving to 4-0, while ORHS fell to 3-1.