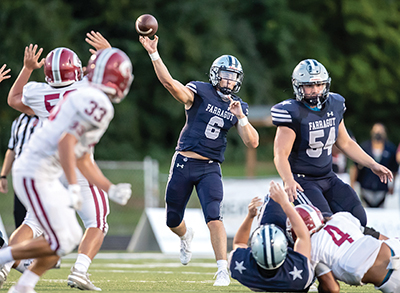 Farragut High School football head coach Eddie Courtney was wondering how his team would respond when it tangled with rival Oak Ridge late last week. The Admirals' longtime head coach liked what he saw.

"I made it really hard on them for the past week-and-a half. I really did," Courtney said after the Admirals notched a 45-25 over the Wildcats Thursday, Sept. 10, at FHS Bill Clabo Field, avenging a tough 21-14 loss at ORHS's Blankenship Field last season.

It was Farragut's first game since it lost 30-7 to Knoxville West Saturday, Aug. 29. After FHS fell behind early, the Ads roared back, which made the coach extremely happy.

"I didn't like (the West game). That was not Farragut football and I wanted to see how they responded, and I like the way they responded," Courtney said. "They could've not responded. But they did respond."

The Ads certainly got their coach's message. "Coach really made it tough on us and it worked. It really did," said FHS senior wide receiver Matt White, who had 11 receptions for 197 yards and three touchdowns. "Coach Courtney is a great coach and he's even a better man.