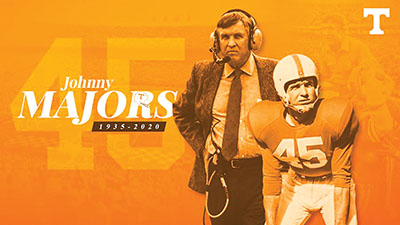 Tennessee lost one of its heroes when Johnny Majors recenlty passed. Coach Majors is a legend as a Hall of Fame player and coach, but he also touched many lives in Tennessee as a man.

In the 1980s while coaching at Rule High, I would attend coach Majors' coaching clinics at the University of Tennessee. He was always working the crowd and talking with high school coaches.

I was fortunate to be with Don Ward, and John would always spend five or 10 minutes talking with Don about Knoxville high school football, and I would get to be a fly on the wall. Coach Majors and Don would always exchange coaching gems that would open my eyes to the little things that so many coaches overlook.

In the early 2000s while on the staff at Knoxville Central High, I attended a Coach of the Year Clinic in Atlanta. Coach Majors owned the Coach of the Year Clinic. He had purchased the business from legendary Michigan State head coach Duffy Daugherty and held clinics in different cities across the nation.

The Clinic was well-organized and featured major college coaches as speakers. Again, like the UT clinic, coach Majors was very active and visible while having informal talks with coaches outside the formal sessions.

I was now an old man on the staff and was acting as a mentor for a couple of younger coaches. It was Saturday night and I directed my young friends to the free sandwiches and beer provided by the clinic. We ended up sitting in the lobby watching all the coaches coming back from their nights out on the town and laughing at their returns.