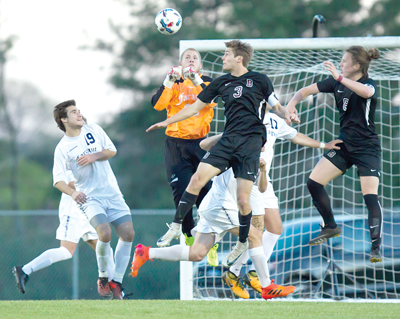 Shayne Miller, Farragut goalkeeper, punches back a Bearden shot attempt while surrounded by four Admirals teammates. Looking for a chance at a header goal is SoccerDawg Evan Downen (3), while BHS teammate Mitchell Mazrimas, right, looks for a rebound during this rivalry showdown in Farragut Soccer Stadium (Farragut Intermediate School) Friday evening, April 20. The Ads won 2-0.

Pablo Herrera has a knack for scoring goals when Farragut High School's boys soccer team plays against rival Bearden, and he got the first goal against the Bulldogs Friday night, April 20.

"I just started dribbling and I saw their keeper on the other side of the net," said Herrera, a junior forward who scored the first marker in the Admirals 2-0 non-district victory over the Bulldogs before a spirited crowd at Farragut Soccer Stadium. "It was just like the goal I scored against them last year (in the District 4-AAA Semifinals).

"It was the same place on the field."

Herrera's tournament goal represented all the offense of that match. But on this night, he and his teammates would get insurance.