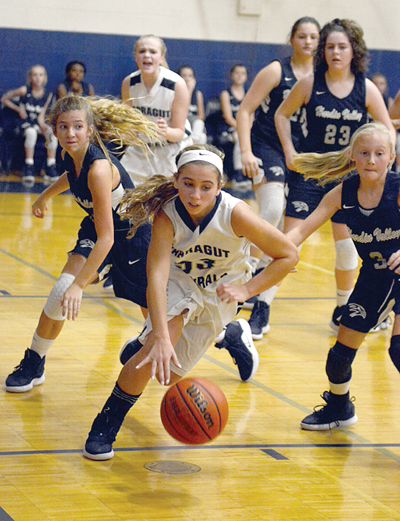 Farragut Middle School's Annie Priest dribbles away from several Hardin Valley defenders during this inaugural match-up, which took place in FMS's Bobby J. Henry Gymnasium Thursday, Nov. 9.

Farragut Middle School's girls basketball team has ended the last two seasons cutting down the nets as Knox County Middle School Basketball Conference Champions, and the Lady Admirals have won their first three games this season.

FMS kept its perfect record intact when it notched a 38-22 victory over new rival Hardin Valley Thursday evening, Nov. 8, in Bobby J. Henry Gymnasium.

The Lady Ads got off to a fast start thanks to eighth-grade forward Aubrey Stackhouse.

Aubrey, who played on Farragut's last two teams that won the James A. Ivey Jr. Memorial Middle School Basketball Tournament, posted a double-double as she scored 14 points and grabbed 13 rebounds.

"That was Aubrey's second straight double-double. She's a great player," Farragut head coach Susan Davidson said. "She's worked really hard and she's a great kid."

Hardin Valley has dropped three consecutive games since winning its first-ever game, which was at Holston, Monday, Oct. 29. .