Legos releases lend fun way to celebrate at midnight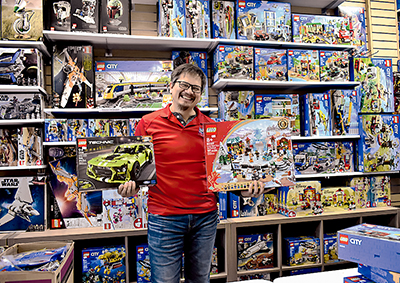 While typical New Year's Eve revelers waited with noisemakers and glasses of champagne to ring in the new year, dozens of Lego fans patiently waited outside BrickHouse Collectibles in West End Center to start 2022 with new projects in hand.

"Lego has two huge release dates every year — Jan. 1 and Aug. 1 — not sure about why those specific dates, but we thought we would open at midnight New Year's Eve to offer the new sets," BrickHouse Collectibles owner Pat Burnett explained about the special open house held from midnight to 2 a.m., Saturday, Jan. 1.

He had flooded social media with previews of specific sets in the days leading up to the event, showcasing new offerings from the Ninjago, City, Minecraft, Disney and Star Wars lines, as well as a Creator line model Shelby and brand-new Chinese New Year sets — but was still surprised at the number of Lego enthusiasts who flooded the store.

"We had about 60 transactions, and well over 100 people came," Burnett said. "It was awesome. Our New Year's Day was off the charts.