Twenty-five years after 'Blizzard of '93,' 100-plus patients celebrate with staff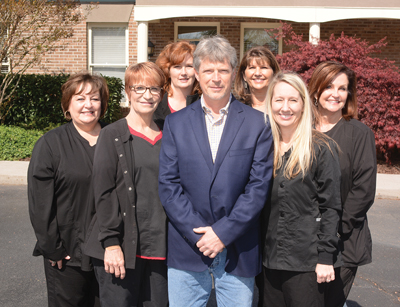 Dr. Keven Bowdle is surrounded by his dental practice staff in front of their clinic home for the past 25 years, 11232 B West Point Drive in Farragut, during a silver anniversary celebration Thursday, April 19. From left are Lisa Myers, Linda Rose, Robin Maples, Lisa McGuire, Jeannie Wilson and Faye McKelvey.

The famed mid-March "Blizzard of 1993" delayed the opening of Dr. Keven Bowdle's dentistry practice in Farragut

"That was supposed to be my first week of practice, but I had to cancel the first two days of patients because of the snow," said Bowdle, a native of Cleveland (Bradley County), about his first and only practice after graduating dental school at the University of Tennessee Memphis in 1989.

A memorable storm in human form, more than 100 patients, came by to celebrate the practice's 25th anniversary in the office parking lot, 11232 B West Point Drive, Thursday evening, April 19.

"In 1993 we had our first baby (son, Garrett), our first house, our first practice and our first dog," Bowdle said about he and wife, Karen Bowdle. Younger son, Jackson Bowdle, was among those on hand for the celebration.