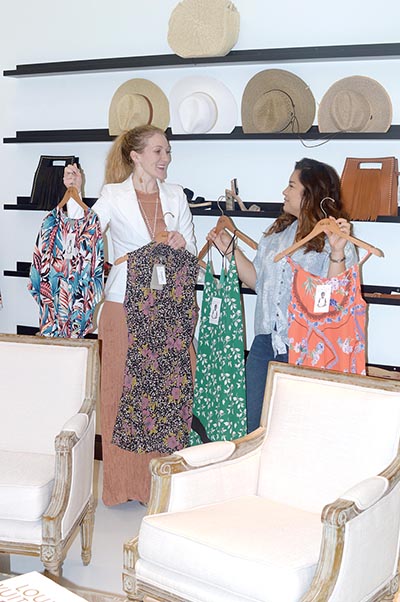 Melissa Mauceri, left, fab'rik Knoxville store manager, and store stylist Esmeralda Mendoza look over fab'rik's outfits from its Asher Collection at its 11375 Parkside Drive location in The Pinnacle at Turkey Creek, which opened June 21.

A new boutique in Turkey Creek has opened its doors to offer "high style with heart."

The franchise store, fab'rik Knoxville, had a soft opening June 21 at its location, between Clair's and Sunglass Hut at 11375 Parkside Drive in The Pinnacle. A grand opening is being planned for August.

The store, created by Dana Spinola, founder/CEO and "chief visionary officer," offers trendy clothes with prices under $100.

"What Dana was trying to do was fill the gap in fashion retail," store manager Melissa Mauceri said. "Everything that every fab'rik location carries, outside of Spanx Denim line, is always under $100."

One of fab'rik's mantras is "High style with heart."

"Aside from affordability, another thing they strive to do is 'wow' every single customer," she said. "That's why we have a staff of personal stylists.

"We want to make sure everybody comes in and then leaves feeling more beautiful and more informed than when they came in," Mauceri added. "We try to do everything we can just to support the community."

The company has two major projects to fulfill that support.