BHS grad turns animal devotion into pet-sitting business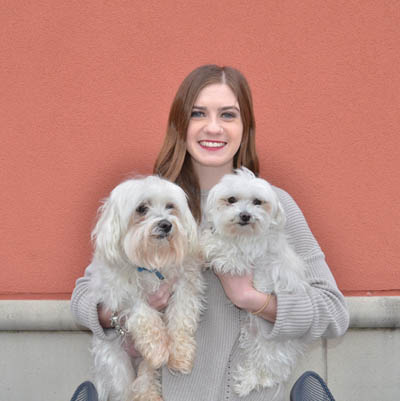 Abbey Varner, owner and operator of "Pawsitively Pampered Pet Sitting," holds her own two Maltese pups, Bettis and Bradshaw, who are never far from her thoughts, even as she works all over Knox County taking care of other people's pets.

Abbey Varner has always loved animals — especially her own — but she has turned that devotion outward to operate "Pawsitively Pampered Pet Sitting."

The Bearden High School graduate started in that field when she was just 8 years old, on the heels of finally finding a dog breed that didn't trigger her father's allergies. The family bought a Maltese they named Bettis, in honor of Pro Football Hall of Fame running back Jerome Bettis, a former Pittsburgh Steeler.

"We are from Pittsburgh and are Steelers fans," Varner said, noting they added Bradshaw (named after Steelers Hall of Fame quarterback Terry Bradshaw) three years later.

Even then, her care for pets extended to those owned by others.

"My parents were both allergic to cats so we couldn't have one, but they might find me petting one in the middle of the street," Varner said.

That natural bent led her to a self-realized dream job.