Parham close to FIS on two levels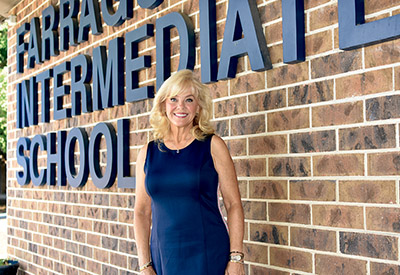 Suzanne Parham is Farragut Intermediate School's new principal, but she is no stranger to the Town she has called home since 1992.

Both her daughters, Grace and Hope Whitaker, graduated from Farragut High School, and she and her husband, Ben Parham, live in a subdivision nearby her new workplace.

Parham already has been working closely with retiring FIS principal Deborah Adorante this summer, even though Parham's official "First Day" isn't until July 1.

"I'm so excited to be working here now, and being able to give back to my community," said Parham, who most recently worked for Knox County Schools as assistant principal at Karns Elementary. "My friends and family are all here, and it's just an honor for me to be able to come to work here.

"It has been terrific being able to work together to make the transition a smooth one," she added. "Most people don't have this opportunity, and to be able to work together like this has been wonderful."

She also has had the chance to weigh in on new hires for the coming year.

"The teachers here already are phenomenal, and being able to hire new teachers is one of the most important decisions I make as principal," she said.