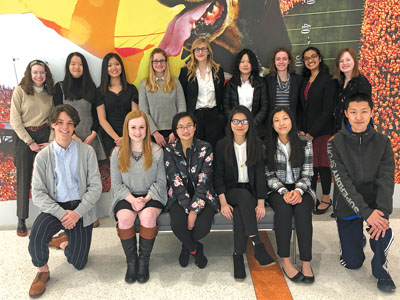 Farragut High School's History Day Team competed in regional and state competitions during the past school year. Team members, in no particular order, are Varsha Babu, MacKenzie Bond, Ariane Burt, Forest Chen, Katherine Chen, Ashley Dai, Meguire Frank, Lily Han, Ana Laurenti, Claudia Levi, Rena Liu, Christian Rees, Allison Strong, Alice Zhang and Yuxuan Zhang. Chen, Liu, Han, Levi and Zhang will be heading to the nationals this summer.

Farragut High School's Humanities Academy students are leading the way in regional and state competitions, with some heading to national events this summer.

The school's teams showed individual and team skills in the history, courtroom and diplomatic arenas during the 2018-19 school year.

"It's inspiring to be with a group of people I know are going to change the world, whether I'm talking about people who are going to be involved in grassroots movements or even future presidents," said senior Katherine Chen, Humanities Academy's first president who competed in both the History Day and History Bowl competitions.

"We've had a lot of fun," said senior Ronan Hix, a History Bowl team member. "Our team at Farragut has had a lot of success in years past, and we had success this year."

He explained History Bowl is a Jeopardy-style competition.