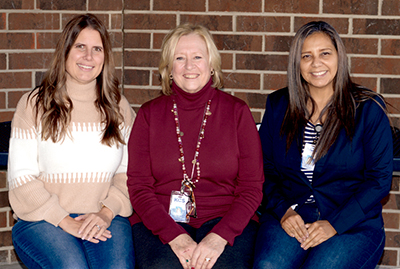 Farragut Primary School teachers Disa Benefield, Claudia Sanchez and June Frear are their school's Teachers of the Year.

Benefield, who teaches special education, Sanchez, who teaches English as a second language, and first-grade teacher Frear were chosen by their peers for their accomplishments.

"There's a ballot, so each staff member will choose a teacher," Benefield said.

The results of those ballots then are combined, and the nominees who meet a list of qualifications, such as tenure, are selected.

"I was so excited and very happy because we have such high-quality teachers here in the building," Sanchez said, adding she also is happy that teachers think highly enough of her to choose her for the honor.

This marks Sanchez's eighth year at FPS in a teaching career spanning 17 years. Along with ESL, she also had taught high school Spanish.

"I remember when I was the youngest teacher in the building," she said. "I was 21."

Sanchez was inspired to pursue teaching by her parents, who were teachers. However, her father did not want her to become one.