Losing her 3-year-old son to drowning, Hughes finds way to keep parents on guard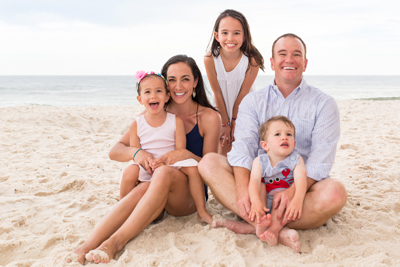 The Hughes family, from left, daughter, Reese; mother, Nicole; daughter, Lily; father, Jonathan; and son, Levi, is pictured during their annual beach trip in 2017. This year's trip, held in June, turned tragic with Levi's drowning, but his mother is determined to save other children's lives with the Water Guardian lanyard she designed and is tirelessly promoting.

Children's drowning deaths rarely occur while swimming, as Nicole Salvaggio Hughes heartbreakingly discovered just over a month ago.

Her 3-year-old son, Levi, tragically drowned during a family vacation June 11, and while she can't change what happened, she has made a determined effort to ensure Levi lives on in a way that might save other families from the same fate.

Hughes, her anesthesiologist husband, Jonathan Hughes; daughters, Reese and Lily; and Levi, were on the Alabama Gulf Coast with five other couples for a summer vacation the second week of June, just as they had done for the last five summers.

"It was six doctors and their wives," explained Nicole's twin sister, Farragut resident Melissa Glover. "It was the same families and all the same kids."

Hughes, who is a University of Tennessee graduate and currently resides in Blountville, said there were 12 adults and 17 children at the rented duplex, which had a backyard pool.