Town administrator tackles new challenge, reaches 11,250-ft. peak of Mount Hood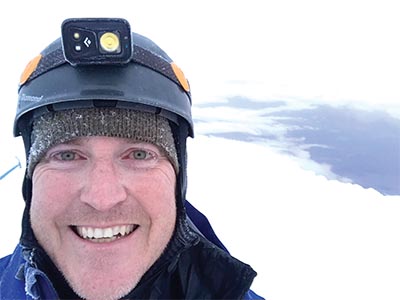 Rotary Club of Farragut past president David Smoak braved the cold last May to climb Mount Hood, the tallest summit in Oregon. He shared his experiences with Rotarians during their meeting July 10.

Rotary Club of Farragut past president David Smoak serves Town of Farragut as its administrator — but when he's off duty, he reaches new heights.

"If you ever have a dream, go ahead and do it," he advised fellow Rotarians during their meeting in Fox Den Country Club Wednesday, July 10, when he shared his experiences of climbing Mount Hood, the highest peak in Oregon.

Smoak climbed the 11,250-foot peak May 15 with friend, Brett Huebner.

"It was just amazing," he recalled. "It was an amazing view and just a fun day. It was a great sense of accomplishment to reach the summit."

Smoak, Huebner and a guide started the climb from 6,000 feet at the base of the mountain at 1:30 a.m. and reached the summit at 5:35 a.m., just as the sun was rising.