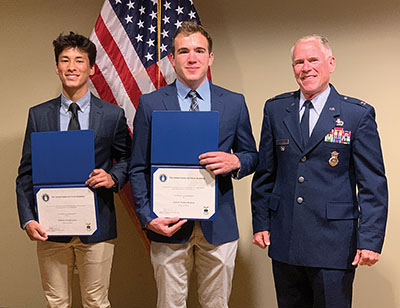 Farragut High School had two elite graduates who reported for duty at the U.S. Air Force Academy, doing so just one week after coronavirus-delayed FHS graduation ceremonies were held Friday, June 19.

Both Tony Lyons and Gabriel Reiman received their official appointments to the prestigious military academy from Retired U.S.A.F. Col. Rick Kuhlman in a Saturday, June 13, ceremony.

The duo arrived on the Colorado Springs, Colorado campus Thursday, June 25, where they joined fellow FHS alums already attending the Academy: rising sophomore Joely Gruhn, rising junior Kaitlyn Grunau and rising senior Spencer Flint, all of whom were home in Farragut earlier this year due to the coronavirus shutdowns.

Tony Lyons

"I'm of course extremely blessed and excited to have been appointed, and I couldn't have done it without outstanding support from friends and family," said Lyons, son of Gerald Lyons and Tian Lyons.