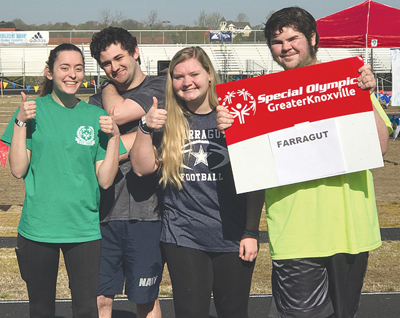 Farragut High School students attending Special Olympic games included, from left, peer tutor Alice Dupree, competitor Chris Peters, peer tutor Grace Mead and competitor Asher Brassfield.

Special Olympics of Greater Knoxville united more than 650 special needs athletes at Hardin Valley Academy's football field April 11 and 12.

Both days were warm and sunny when area elementary, middle and high school students competed in track and field events, which included relays, 100-meter dashes, long-distance softball toss and the long jump.

The younger students filled the field early in the day April 11, then cleared the way for adult competitors in the afternoon.

High schoolers were the stars April 12, including Olympic representatives from both Farragut High School and HVA.

FHS had more than a dozen athletes and peer tutors at the event, and between 10 and 15 Farragut students were on the field most of the day.