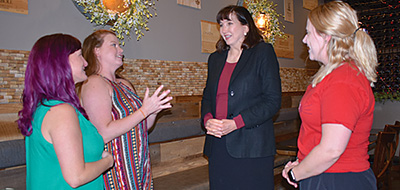 Nominated by the The Libertarian Party as its presidential candidate, Dr. Jo Jorgensen wants voters to know she is "a genuine person who wants real change for real people."

The Clemson University senior lecturer sought to demonstrate those qualities when visiting Farragut Tuesday, June 23, filming commercials and campaign promotions at four locations under the direction of area resident Austin Tutor, owner of Vivid Videography.

Jorgensen, along with her campaign manager Steve Dasbach, had lunch at Water into Wine bistro & lounge in Farragut, dropped in on an area ice skating rink — as the candidate also is a long-time hockey player and fan — and visited Tutor's home-based studio in Walnut Grove.

Jorgensen's locally-filmed videos, in which she discusses her platform and political positions, were to be posted this week on her Facebook page and her website, www.joj2020.com, Tutor said.