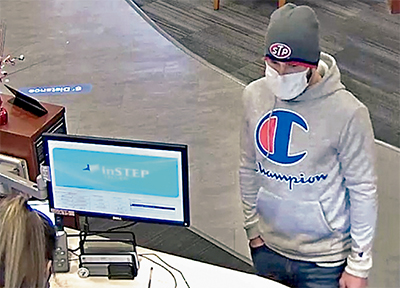 FBI Special Agents along with the Knox County Sheriff's Office units are searching for the suspect responsible for the robbery of First Horizon Bank, 11685 Parkside Drive in Farragut, Monday, Jan. 10 (submitted security cam photo, right).

"At approximately 2:15 p.m. … the suspect entered the bank and approached the tellers, handed them a note and demanded money," stated a report from Darrell DeBusk, public affairs officer with FBI's Knoxville Field Office.

"The tellers complied with the demands. It is believed the suspect fled the bank towards Campbell Station Road."

No further information was available at deadline Tuesday afternoon, Jan. 11.