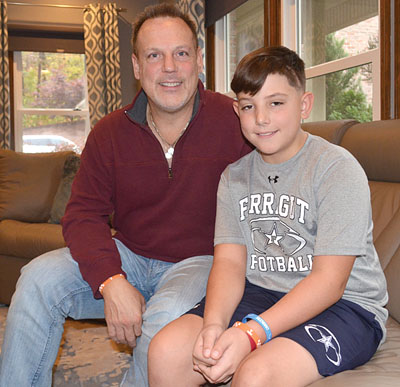 Gage and his grandfather, Joe Kirby, left Monday, Nov. 12, for Memphis, where Gage began proton therapy at St. Jude's Children's Research Hospital for a rare form of brain cancer for which he already has undergone two surgeries.

As quarterback for his Farragut Youth Football 10-U team, 11-year-old Gage Kirby leads and guides his fellow players, encouraging them in every way.

Now, Gage, a fifth-grader at Hardin Valley Elementary School, finds himself on the receiving end of that role, as he battles a rare form of brain cancer.

An active boy, and football player since age 4, Gage had few health issues, except for a history of migraines and allergies, when he started suffering severe headaches about three months ago.

Gage's grandfather, Joe Kirby, who along with his wife, Jackie, has raised Gage and his sister, Riley, since early childhood, at first believed it was just a continuation of the family's history of migraines.