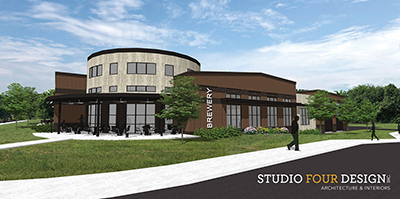 Updated images were provided from Doug Justus this week for the planned Admiral Landing development at the corner of Campbell Station Road and Kingston Pike (former Phillips 66 convenience store site). Justus, along with Carlos Cortez, own the property and are developing it.

The old Phillips 66 convenience store is almost completely gone at the corner of Kingston Pike and Campbell Station Road, thanks to quick demolition work that started last week making way for Admiral Landing, a new restaurant concept receiving site plan approval last month from the Farragut Municipal Planning Commission.

Owners Doug Justus and Carlos Cortez are planning a 9,600-square-foot building complex, with a centerpiece concept of rotating food trucks that would be located in a semi-enclosed space at the east end of the building.

"As proposed, the food trucks will essentially act as revolving kitchens for the brewery/restaurant," noted a report from assistant Community Development director Bart Hose that was included the in October FMPC packet.