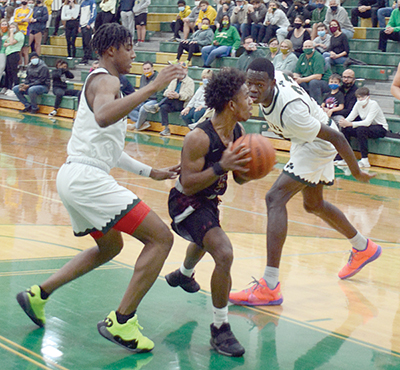 KNOXVILLE — Handje Tamba continues to evolve and improve as a basketball player. The tall Knoxville Catholic High School junior forward played perhaps the best game of his career late last week.

Tamba, a 7-footer, scored a career-high 22 points and grabbed a career best 11 rebounds to lead the Irish to a 60-48 victory over Bearden in a clash between defending state champions Thursday night, Dec. 10, at KCHS.

He also had three blocks and two steals for Catholic (6-1).

"He's the most improved big man in the state," Irish head coach Mike Hutchens said of Tamba, who has multiple NCAA Division I scholarship offers, including one from the University of Tennessee. "He's really athletic and he can fool you. His speed can fool you."

Tamba helped KCHS dart out to a fast start and open a 14-2 lead in the first quarter. He scored eight points in the opening frame, which saw Bearden (10-1) make just two field goals and commit six turnovers.

"I thought we were really sharp defensively, and I was concerned about that," Hutchens said. "We missed four practices and had two games canceled."

Catholic had a 14-5 advantage after the first quarter and the Irish expanded their lead to 35-21 by halftime.

Tamba was the biggest star against the Bulldogs, but he got help from his supporting cast. Junior guard Presley Patterson scored 13 points and made three 3-pointers. Junior point guard B.J. Edwards scored 11 points, pulled down five rebounds and dished out five assists.

"Tamba is a difference maker and the difference is night and day," Patterson said. "He's our X-factor."

Catholic never really lost the upper hand against the Bulldogs, who won the 2019 Class AAA state championship. But Bearden mounted a valiant rally and pulled to within 39-35 when Walker Kyle scored with 3 minutes, 21 seconds remaining in the third quarter.

"We were up by 14 at halftime," Presley said. "And we thought we were going to pull away, but that's a quality team."

"These kids will always fight hard, but honestly, we lost this game in the first six minutes," Bearden head coach Jeremy Parrott said. "It was 14-2 at one point and then we came back and got it to within four.

"But if we get off to a better start, we're looking at a two or three-point lead at that point," he added.

Kyle, a junior post, led the Bulldogs with 13 points, and was the only BHS player to post double figures in scoring.

A.J. Pruitt, senior wing, added eight points for BHS.