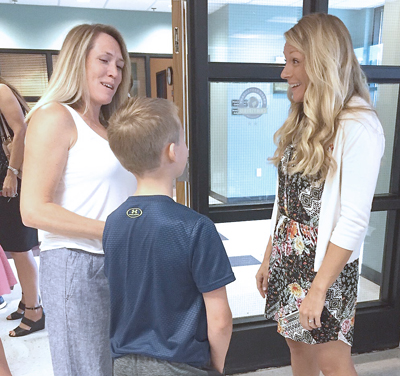 Families and students met their new-to-Episcopal School of Knoxville teachers on campus Tuesday morning, July 31.

New teachers shared their backgrounds and educational philosophies with families while students had the chance to ask questions, share their favorite things about ESK and check out their new classrooms.

New-to-ESK teachers interacted with parents and heard about students' love for our world language program.

Episcopal School of Knoxville is thrilled to welcome three new lower-school teachers for the 2018-2019 school year. In second grade, Genna Kuban joins our team from Tremont School in Illinois. She's looking forward to taking her class on our outdoor trails.

Cathy Stivers, a long-time ESK teacher, will return to teach third-grade after a year away. She's a beloved member of our school community, and is also planning to take her students outside as much as possible to use the outdoor classroom and visit the chicken coop.

A veteran educator, Libby Leinart rounds out our new lead teacher faculty. She'll be a fourth-grade teacher who echoes her excitement to utilize ESK's 96-acre campus for place-based learning and gardening with her class.