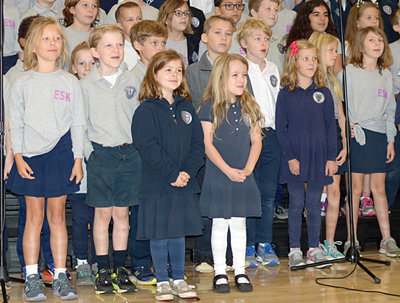 Episcopal School of Knoxville second-, third- and fourth-graders sing "What Can One Little Person Do" and "If You Want to Be A Star" during a Chapel Service Celebration Friday, Oct. 26.

Twenty years ago Google began, Game Boy's Pokémon went on the market, Harry Potter books started a phenomenon and a group opened a new Episcopal school in Knoxville.

In 1998, Episcopal School of Knoxville, 950 Episcopal School Way off Gilbert Drive, opened its doors for its first class of students and "has been nurturing students in academic excellence, fine arts, world languages, outdoor education and more ever since," said Amanda Sharpe, ESK communications and strategic coordinator.

"Look how far we've come in 20 years, and a lot is going to happen in the next 20 years," said Jack Talmadge, ESK head of schools during a Chapel Service Celebration in the school Friday, Oct. 26.

"I know everybody and everybody knows me," fourth-grader Eleanor Bookstaff said after the chapel service. "It's just really nice to be with other classmates, and the teachers are very nice, too. They treat you like you're their child."

"I've been here since (the) first grade, so I basically know pretty much everyone," seventh-grader Ella Parker said. "Everyone here is your friend, and the teachers are nice and make sure that you understand everything."

For faculty, the new school was an opportunity to spread their wings and grow with the school.

Miranda Clark, librarian, remembered when she first came and started a library at ESK, she was told, "Whatever you need to build the best library."

"I had such wonderful dreams for this place," she recalled.

The school was a "home away from home for me," first-grade teacher Chris Bishop said. "In this place I feel most connected."

"The school is just incredible," Talmadge said. "Rarely does a school grow as quickly and as successfully in such a short amount of time. Its history and what we have today is truly remarkable."

Former head of schools Jay Secor recalled how ESK started with cottage classrooms and 24 students.

There were no gymnasiums.

Sharpe said the school now has 300 students, ranging from 3- and 4-year-olds in a junior kindergarten to kindergarten-through-eighth-grade classes.

The 96-acre campus has a slightly more than 96.000-square-foot facility, which includes Brewerington Lower School, Kline Gymnasium, Saint Bartholomew's Chapel, dining halls, the middle school, Secor Hall and Siler Gymnasium.

Service projects have included third-graders collecting food for local food pantries, second-grade classes operating a school store from which proceeds went to Friends of the Smokies, fourth-grade classes raising money for hats and socks for Homes for the Hungry and fifth-graders serving food at Volunteer Ministry Center.