Kumi's love of her culture, homeland rewarded by Japan's Consul-General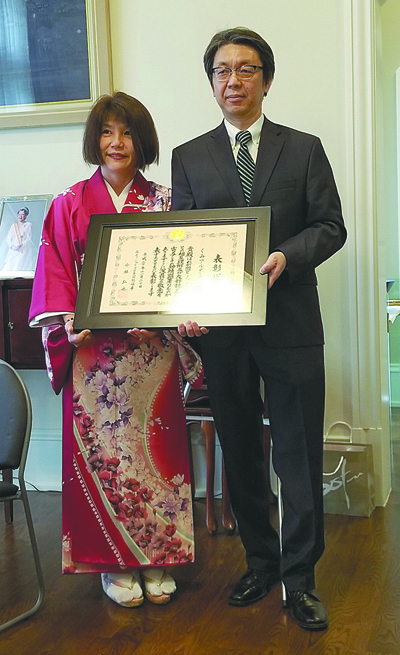 Consul-General of Japan Hiroyuki Kobayashi, right, presented Farragut resident Kumi Alderman with a certificate of commendation Nov. 20 at his home in Nashville, honoring her for "distinguished service in contributing to the deepening of mutual understanding and friendship between Japan and Knoxville."

Kumi Alderman of Farragut may have left Japan three decades ago, but her love for her culture and homeland has come full circle, as she recently was honored by the Consul-General of Japan for her local efforts to educate and promote Asian culture.

Alderman, who is executive director of Knox Asian Festival — which she helped co-found more than five years ago — received a certificate of commendation Tuesday, Nov. 20, from Hiroyuki Kobayashi, Consul-General of Japan, in Kobayashi's Nashville home.

She was singled out for her work with the festival, which celebrated its fifth anniversary in August, along with her involvement in Asian Culture Center of Tennessee, and her work with Knoxville's ongoing sister city efforts with Muroran City, Japan.

"The Consu-General said 'Thank you,' and I was honored to be recognized in this way and for helping our sister city relationship," Alderman said.

She first came to California, then moved to Knox County about a dozen years ago before settling in Farragut.

But it was two serious car accidents in 2012 that, ironically, put her back on track — one so serious she was bedridden for six months.

"At the time I didn't know what was next but I knew I wanted to do more meaningful things," Alderman said. "Promoting Asian culture had always been a goal, but my experience taught me to seize the moment and pursue my passion and give back to the community.

"It was also important for me to bring the Asian community together, too."

Not long after, she helped form the Asian Culture Center of Tennessee, which quickly focused on Knox Asian Festival.

"I thought if we could share who we are, it could bring more harmony to the community," she said. "And we though, maybe, the best way to share our culture would be in a fun way and make a festival, to bring people together, uniting (adults) and kids from all over the world."

Organizers also reached out to the University of Tennessee — well known to have a vast number of international students and faculty — to help with the project.

The result was a day-long event in September 2014 that brought 3,000 to downtown Knoxville.

It has since added performance artists and cuisine from nearly a dozen countries and has grown exponentially: welcoming 40,000 visitors to Market Square.

Organizers estimated the event had a regional economic impact of nearly $600,000, and have higher hopes for next year.

They are busy planning for the Aug. 25 Festival, which will be in World's Fair Park since the event has outgrown its Market Square space.

While Alderman has openly shared her own Japanese culture, she has continuously worked to recruit other Asian factions, including those from India, Taiwan, China, the Philippines, Vietnam, Korea, Burma, Malaysia, Laos, Indonesia and Thailand, to work with the ACCT and also participate in the Festival.

"Many of the other groups will get together monthly, and cook together and socialize, then once a year we bring it all together at the Festival," she said.

Personally, Alderman has a team that visits local schools and museums with her to teach about Japanese cultures.