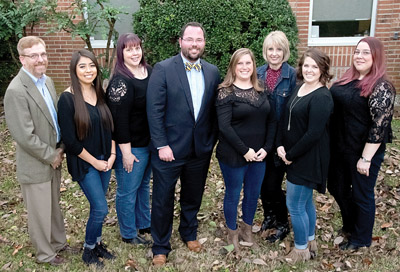 Bryan Insurance Group recently opened in Farragut — its second office. Staff members, from left, are Rob Sliker, Nayeli Carreno, Dawn Mackey-Wilson, owner Matthew Bryan, Caitlin Cook, Michele Self, Allison Waters and Leanne Garcia.

Farragut resident Matthew Bryan is expanding his business, Bryan Insurance Group, by adding an office in Farragut.

He opened the second office next to Farragut West Knox Chamber of Commerce, 102 Chaho Road, in October. The Chamber has scheduled a ribbon cutting for 4 p.m., Tuesday, Feb. 5, at the agency.

"We wanted to grow, so we opened this office here in Farragut," said Bryan, who has lived in Farragut since 2011 with his wife, Alena, and two children, Rhodes and Marley.

"The other office is still in Maryville — at 214 Ellis Ave., right next to the (Blount County) Courthouse," he added.

"I had been looking for the last couple years (to open an office in Farragut) and found this location. It just worked out perfectly. We're really excited about it. We like the area and plan on being here 30 or 40 years."

Bryan Insurance Group is an independent agency that provides personal lines of insurance — home, auto, boat, motorcycle, recreational vehicle and life – and commercial insurance.

"We represent 10 or 15 different insurance companies," he said, noting the main companies are Erie, Auto-Owners, Safeco, Metlife, State Auto, Stuckey National and Westfield.

"We go shopping (for insurance coverage) for you," Bryan added. "We have some of the best companies to do that.

"According to Consumer Reports, Erie, Auto-Owners and MetLife are three of the top 10, so our pricing is really competitive. We try to give people the best coverage we can give them with the best service. We've got to give them a competitive price or they don't care what we do."

Bryan was a banker in Blount County before changing careers as an insurance agent and subsequent agency owner.

"There were two legacy insurance agencies in Blount County," he recalled, referring to Hitson and Crum & Blazer.

"I put those two together," Bryan said. "I bought the Hitson Insurance Agency in 2016 and the Crum & Blazer Insurance Agency in 2017."

He said Hitson Insurance Agency, started by Gary Hitson, was the oldest agency in Blount County.

When Bryan was a banker, the two agencies were Bryan's clients.

"Gary Hitson had always suggested it would be good if I got in the insurance business," he said. "We had talked about it for a long time. Eventually I decided to do that in 2014.

"I started working for (Hitson) with the plan of perpetuating the agency from him to me, which is what he wanted," Bryan added. "He wanted (the agency) to continue and to grow. It was a great opportunity.

"It so happened Crum & Blazer came the next year, approached me that they needed some help, and we were there and growing. I was running out of office space, and they needed some staff."

Bryan Insurance Group's office hours are from 9 a.m. to 5 p.m., Monday through Friday. An answering service takes calls after hours.

For more information about the group, call 865-951-7993, e-mail to mbryan@bryaninsurance.com or visit online at bryaninsurance.com.