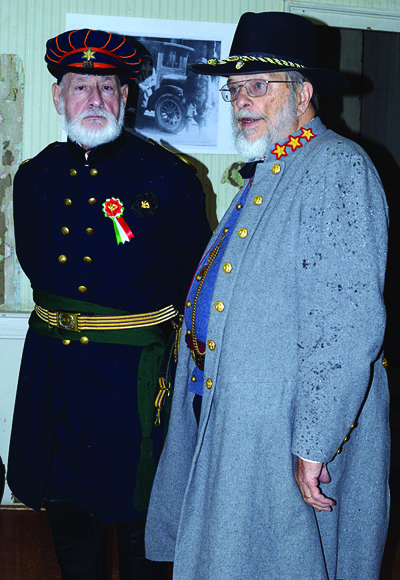 Local historians Ed Archer, left, and Gerald Augustus dressed in period costume to attend Town of Farragut's open house for the opening of renovated Campbell Station Inn, 11401 Kingston Pike, Sunday afternoon, March 3.

A downpour did not keep visitors from stopping by Campbell Station Inn, 11401 Kingston Pike, during its open house Sunday, March 3.

Almost 200 people visited the site, located at the corner of North Campbell Station Road and Kingston Pike, looking around, taking photos and listening to the musical sounds from O'Kennessee Strings, which performed for the event.

"Awesome" and "I love it" were the remarks visitors expressed as they walked around the rooms or stood in a line, which at times reached outside on the porch.

"I'm so thankful Farragut bought this," Dana Nance said.

"I love how it's got the original wallpaper on top of more wallpaper," Zoyia Drake said. "You get to see the ages of wallpapers through the years."

"I'm glad they didn't tear this (building) down," said Donna Coffey, a docent at Historic Westwood in Memphis. "I think it's amazing they decided to save it."

"It's beautiful," added her husband, Mike Coffey.

"It's really cool," Keith Simmons said, adding he and his wife, Linda, came to tour Campbell Station Inn to get ideas.

"We just purchased a 170-year-old house — the Prater House. We're putting our numbers together, and we're looking to restore it," Keith added.

Linda said the original owner of their house was John B. Russell, and she wondered about the coincidence that the Russell-Avery House was once John Russell Dairy.

"I love what (the Town is) doing," local historian Gerald Augustus said. "I'm so proud of them buying it instead of tearing it down for a convenience store. This is history."

"It's a living history," added Ed Archer, another area historian.

"We wanted to see it for a long time," Barbara Naessig said about Campbell Station Inn.

"It's a gorgeous house," her husband, Wayne Naessig, said.

With the building's future use still up in the air, the Town is seeking residents' input.

"I've been here several times," Farragut Alderman Ron Pinchok said. "I'm glad we've gotten the outside (of the house) done. I'd like to get feedback from citizens on what they would like to see done with it."

"I hope they decide to turn (Campbell Station Inn) into something accessible to the public," Donna Coffey said.

"I'd like it to be a bed and breakfast; however, there's no bathroom or kitchen," Conny Ottway said.

A few other residents' suggested uses were an arts center, brewery, a venue for arts and history classes, tap house, moonshine store, extension of the museum and a special events rental venue.

Sue Stuhl, Farragut Parks & Recreation director, said she did not expect the crowd since the weather did not cooperate; however, people kept coming throughout the event.

"I haven't been here since 1958," said Mike Bailey, who graduated with and was a close friend of Ann Russell, who grew up in Campbell Station Inn when it was known as the Russell-Avery House. "Ann and I went to school together.

"I dated her a little when we were seniors," he recalled. "(The house) was the Russell Dairy at one time. Coming here brings back memories.

"I'm sure (the Town) will do something with it," Bailey added. "It's got to be a showplace. It's a historical landmark. I was glad to see it restored."

While Town officials do not have the precise date Campbell Station Inn was built, Stuhl estimated it was in the early 1800s.

The property is listed on the National Register of Historic Homes; and in addition to once being an inn, the property also served as a hospital during the Civil War and a dairy business before becoming a private residence.

The Town purchased the 2.26-acre property in 2012 with hopes of restoring it, and began restoration efforts last year by first stabilizing the building.

Stuhl said there are some items on the punch list.

"They are still working on the roof and yard, and there's some painting touch-ups," she said.

The next step will be to create a plaza on the property for Town events. Town officials currently are in the design phase of that project.