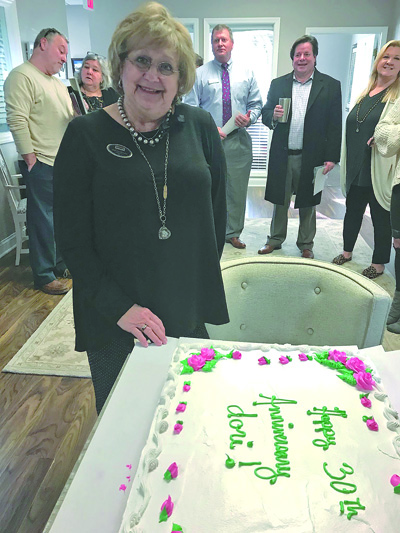 Alongside her 30th Anniversary cake, and with colleagues, friends and family members on hand, Dori "The House Lady" Pavlovsky recently was honored by Coldwell Banker Wallace & Wallace, 10815 Kingston Pike, for 30 years of award-winning service as a broker/sales associate.

Selling real estate for 40 years, which dates back to Pennsylvania, Dori Pavlovsky has become well known as "The House Lady."

Applying her skills in Farragut for 30 years as an award-winning broker/sales associate at Coldwell Banker Wallace & Wallace Realtors, 10815 Kingston Pike, "The House Lady" recently was honored with a reception marking the three-decade milestone.

"When I moved here from Pennsylvania, with a last name like Pavlovsky, people couldn't pronounce it, even though I was getting listings with my name on it," she said. "At first I just tried 'Dori,' hanging it on the For Sale signs. … That didn't work so well."

While also using her initials in lower case, "dp," because she said it was different, "I then came up with 'The House Lady,'" Pavlovsky added. "I use it in all of my ads with the farragutpress."

As for the daily grind, "I love it. I like helping people, and helping them find the right house," Pavlovsky, who lives near Farragut, said. "Getting their houses sold for them.

"There's lots of emotions involved in selling a house," she added. "It's very satisfying to know you helped somebody.

"I spend a lot of time encouraging people, telling them not to get down about a deal that falls apart."

Pavlovsky labels it "a very psychological business because we're dealing with people in a huge investment, and their emotions at the time. Sometimes they're leaving the state — or the country."

Saying she does "a lot of relocation work," Pavlovsky gave one example of a long-distance transition: "I'm working with a couple now, they're moving to Colorado."

On the other hand, "I'm also working with a couple who moved a mile-and-a-half from where they lived," she said.

Things can change drastically in a 30-year span, and that is no different for Pavlovsky and the local real estate scene.

Arriving in Knox County in 1986 with her late husband, Bruce Pavlovsky, and three sons before beginning with Wallace & Wallace in January 1989, "We didn't have computers," she said. "I was the first person with Coldwell Banker Wallace & Wallace to have a laptop. That was kind of funny.

"… Then we went through the phase where we would fax everything," she added. "We don't even do that anymore. Now we just scan it to their e-mail. Technology has changed so much."

In making fliers for her listings, "I'd go and take pictures of the houses, and get like 20 pictures made, and glue them on my fliers," Pavlovsky said about the old-fashioned method. "Of course, now we just design everything on a computer."

As for how selling has changed, "Customers are more educated than they were 30 years ago about the processes," Pavlovsky said.

"And they expect a lot. If we don't have the answers, they expect them quickly," she added. "I like that — they keep us on our toes."

In addition to her skills as a broker, "I could run an office if I so desired," Pavlovsky said. "But I do not desire that."

As for her celebration, "the owners of the company, Jim and George Wallace, they invited some people out to dinner to honor my anniversary," she said.