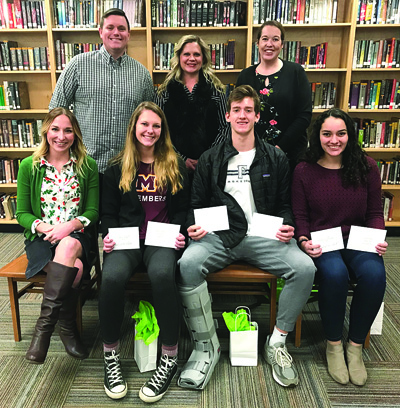 Farragut High School recently announced its January Stars of the Month.

January Star Students of the Month are Rebecca Fisher (seated far right) and Ben Darden (not pictured).

"I nominated Rebecca Fisher because she is an outstanding young lady who consistently goes above and beyond in every endeavor she pursues," said Thomas Bailey, FHS criminal justice teacher. "She is a key leader in Farragut High School's Mock Trial team, and provides solid guidance and assistance to teammates preparing for this year's district competition. She is also a key student leader throughout the high school and is respected by her peers, teachers and administrators."

FHS Social Studies teacher Ben Collins explained why he nominated Darden. "I nominated Ben Darden because he is one of the most respectful, hard-working and genuinely kind young men I have come in contact with. He pushes himself academically by taking numerous Honors and AP-level courses and always puts in the work necessary to be successful in those classes. He is a strong student leader on the Farragut High School track team and the Farragut cross country team. He is an exceptional young man with a very bright future ahead."

January Star Athletes of the Month are Claire Wyatt (seated second from left) and Will Brown (seated), FHS basketball standouts.

"Claire Wyatt averaged 8.5 points per game for January with 2.5 assists, 3.5 rebounds and two steals per game while providing steady leadership throughout the season," FHS principal Ryan Siebe said.

"Will Brown averaged 11 points, five rebounds and two steals per game. He provided integral senior leadership for the Admirals while playing injured throughout most of the season," Siebe added.

January Star Staff Member of the Month is Georgia Vogel (seated far left). "Georgia Vogel is an art teacher with a passion for learning and teaching," Siebe said. "She joined the Farragut staff two years ago. She co-sponsors the National Art Honors Society, and has coordinated student art shows in the 'Old City' for 'First Fridays.'"

Sponsors are ​Teri Jo Fox (standing in middle) and Eric Whitener (standing) with Crye-Leike Realtors, and Tanya Ickowitz (not pictured) of Patdome Promotions, represented by Sarah Post (standing right).