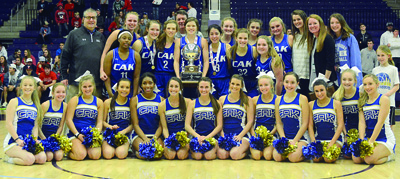 Though obviously disappointed in not bringing the "gold ball" TSSAA Division II-A girls basketball state trophy back to Christian Academy of Knoxville, the Lady Warriors players, coaches and cheerleaders flash smiles after accepting the runner-up state trophy, the "silver ball." Providence Christian Academy of Murfreeseboro claimed a 41-29 state title game victory against CAK Saturday evening, March 2, in Lipscomb University's Allen Arena in Nashville.

NASHVILLE —- Christian Academy of Knoxville's first appearance in a girls state championship basketball game didn't quite go as planned.

The Lady Warriors endured a tough shooting night while one of their star players, senior guard Claire Brock, was extremely limited battling a stomach virus.

"Claire couldn't (really) go today and that was unfortunate," said Abby Williams, CAK first-year head coach, after her team failed to overcome an athletic Providence Christian Academy squad in a 41-29 loss Saturday night, March 2, in the Division II-A state title game at David Lipscomb University's Allen Arena.

"She was in the hospital getting IVs yesterday morning, and she played 26 minutes (Friday, March 1). I didn't know she played that much (in the Lady Warriors' 47-39 semifinal win over Northpoint Christian)," Williams added.

"I was so glad of the way they fought tonight. They left it all on the court tonight," said Brock, who made one 3-pointer in 11 minutes against the Lady Lions.

Even with the loss, CAK finished a magical season at 26-6 with a region championship and two wins versus Cedar Bluff area rival and perennial state powerhouse Webb School of Knoxville.

"We had a great season," Williams said. "... We got a chance to do what no other CAK (girls basketball) team could do ... and we'll be back."

Even short-handed, CAK held the athletic Providence team (22-7) to 14 first-half points (14-14 at halftime).

But the Lady Warriors finished a paltry 9-for-38 from the field.

Junior forward Hannah Carroll scored nine points and had five rebounds for the Lady Warriors. Senior Kennedy Smith scored eight points and pulled down six rebounds. Ellie Fussell, another senior, scored five. All three were All-Tournament team selections.

MVP Yaubryon Chambers of Providence, a versatile 6-foot-1 senior post player, scored a game-high 16 points.