Town officials excited about old Ingles building concept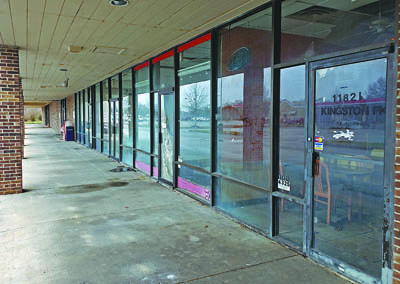 One of many forgotten store fronts that would be a thing of the past soon if plans for the old Ingles shopping center come to pass.

Excitement set the tone for Farragut officials when Ingles Markets construction manager Preston Kendall and Samia Coker, associate with Robertston Loia Roof Architects and Engineers, presented a site plan to remodel the former Ingles building at 11080-11833 Kingston Pike, during a Town Staff-Developer meeting Tuesday, March 5.

"So far, so good," Farragut Mayor Ron Williams said.

"It's all very exciting," Alderman Ron Pinchok said. "It's a very interesting concept of redoing the whole building.

"I'm very pleased to see what they've got planned," he added.

The older center has been vacant since Dollar General Store moved to its present location, 11809 Kingston Pike, last year.

Kendall said no interest had been expressed to rent the property.

The "refacade" plans are expected to be on the Farragut Municipal Planning Commission agenda for its meeting, 7 p.m., Thursday, March 21. Meanwhile, Kendall said his company is pre-leasing the spaces through a local real estate company.

"I would love to have one or two (spaces) leased while I was building," he added. "That way I could make (the space) for them."

"We do have people asking (about renting)," Williams said.

If Kendall receives approval on the plans in March, he

hopes to start construction in June and complete it in October.

"We are delighted," Planning Commissioner Noah Myers said. "It's a long time coming. We are so excited to see the owners take some pride in (the building) and try to bring it to something that's a little more in keeping with the community and get excited about leasing again.

"We sure appreciate their time and enthusiasm to move forward with this project," he added. "There're a lot of folks in this Town who would like to see that space filled up with some good retail."

"(The building) probably predates the Town," Farragut Community Development director Mark Shipley noted.

Initially developed as Farragut Town Square, Kendall said he thinks it was constructed in the late 1970 or early 1980s.

"We rented that (building) up until we built our new store, and then purchased it when they tore down the movie theater," he said. "We actually had two stores here (before the most recent store)," Kendall recalled, adding the latest Ingles was opened in 2008.

"As you, maybe, have seen, they have taken off the shingles and tried to shore up the building for now," Shipley said. "The plan is to go ahead, start with refacading the building."

"We're tearing the roof completely off and putting a brand new roof on," which is to be followed by "doing the inside," Kendall said.

"When we go in, our plan is to gut everything," he added. "We're not going to go in and put sheetrock partitions and bathrooms and all that in these spaces because X, Y, Z tenant might come to us and say, 'I want these two end spaces.'"

He intends to customize the spaces based on the tenants' needs.

"I wasn't aware that they were going to tear off the roof and do all this," Pinchok said. "I think there are going to be a lot of businesses that are interested in moving into it."

While saying there were a few staff comment concerns that were "manageable," Shipley added he thought the plans were fine.

One comment indicated the building needed to be designed so the parapets could screen the HVAC system.

He suggested Kendall look at the Starbucks' screening for its HVAC units as an example.

Along with the plans and architect's rendering, Coker and Kendall brought colors and material boards to show what would be used on the building. He plans to use cultured stone and earth tone colors.

He said Ingles wants the plans to be similar to what one of their new stores would look like.