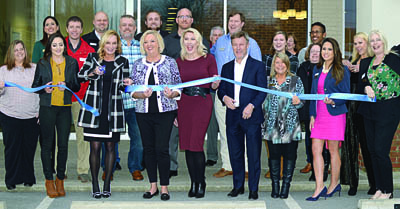 Farragut West Knox Chamber of Commerce hosted a ribbon cutting Tuesday, Feb. 19, for the expansion of Prestigious Properties, 10820 Kingston Pike in Century Plaza. Those pictured include broker/owner Lauren Toole (with scissors) and, in no order, office manager Regina Eubanks and agents Jason Parker, Stephanie Hatch and Michele Doghello. Also pictured, in no order, are Josh Hemphill of Josh Hemphill State Farm, Chris Burleson of American Mortgage and Troy Brown of Foothills Title who are joined by various FWKCC members and business supporters.

Prestigious Properties, 10820 Kingston Pike, has moved into a new suite to expand its space and offer more services to its clients.

Laura Toole, broker/owner of Prestigious Properties, has moved from Suite 24 to Suite 9 in Century Plaza, directly in front of her former suite, allowing her 1,500 more square feet of space.

"I've hired on more agents and then partnered up with other businesses," she said. "So, I needed more space and I wanted road frontage, and having a name like Prestigious Properties, you need to have an office space that is prestigious."

Toole added the move helped her tremendously.

"We get a lot more drop-in clients and agents," she said. "And, the road frontage is a lot better than being tucked away behind Re-Max."

Toole opened in the new space in December 2018 and held a ribbon cutting with Farragut West Knox Chamber of Commerce Feb. 19.

"We specialize in residential and commercial sales and leasing," Toole said. "Our main focus is luxury homes, but I have a variety of agents who work with first-time home buyers, land, commercial (and) condos.

"We really offer a variety of services," she added. "Obviously, if someone wants to sell or lease their home, then we can help them."

Along with real estate services, Toole had partnered with complimentary companies to create a "one-stop shop," joining with an in-house insurance agent, in-house lender, home warranty company and a title company to provide those services to her clients.

Toole has been in real estate for 25 years and had owned a property management company, LT Properties, since 2008.

"I've worked for a lot of different real estate firms," she said, adding she wanted to start a firm that would provide a one-stop shop to customers – "so they have everything all in one when it pertains to real estate" – and her agents could keep 100 percent of their commissions.

"My thing is 'why do you work so hard to pay somebody else your hard-earned money?'" Toole noted.

So she branched out, opened Prestigious Properties in December 2017 in Suite 24 then moved to a new suite a year later and started hiring agents this year. Currently, she has nine agents.

Toole described her business as a "boutique" agency.

"Keeping it small and a boutique, we're able to give the client more attention, to be able to focus primarily on their house for sale and finding them a home," she said. "We're not working with a team or bunch of agents (the customers get) hopped around to, so one agent focuses on one client and gives undivided attention.

"Our goal is to make sure our clients are being taken care of from day one to after closing," she added. "We want to build a relationship with our clients and continue that relationship from there on."

The agency is open from 9 a.m. to 5 p.m., Monday through Friday, and open by appointment Saturdays and Sundays.

For more information, call 865-228-0828, send an e-mail to ltpropertiesllc@gmail.com or visit online at prestigiouspropertiesofknoxville.com.