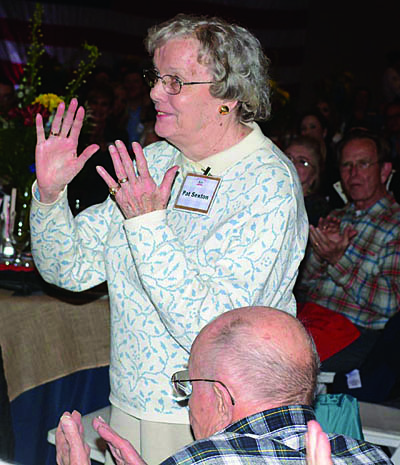 Pat Sexton was recognized with extended applause for being part of the first faculty at Tate's School in the late 1960s. That recognition came during "50 Years of Learning, Love & Laughter: Tate's Golden Anniversary Celebration" Saturday night, March 9, in "The Barn" auditorium on campus along Bob Gray Road in Cedar Bluff, Among those applauding was her husband, highly respected former Farragut High School basketball coach and teacher Lynn E. Sexton

KNOXVILLE — Before fully developing her appreciation for emergency first responders, Paula Tate-Gunter got a surprising "first response" from her mother, Lou L Tate, when seeking to become a teacher at Tate's School in Cedar Bluff.

After receiving her bachelor of arts degree in education from the University of Tennessee, "I thought I was going to teach here," Tate-Gunter said, knowing her mother was the founder of Tate's School in 1968.

However, Lou L Tate responded "'no, no, you've got to go out on your own, make your own way. After you've done that, you can come back,'" as told by Tate-Gunter, who indeed earned her way back, now serving as the school's director of Wellness while also serving as wellness trainer for Scripps Networks (HGTV) Interaction corporate headquarters.

Tate-Gunter's speech, which came during "50 Years of Learning, Love & Laughter: Tate's Golden Anniversary Celebration" Saturday evening, March 9, in "The Barn" auditorium on campus, set up an important timeline leading to the school announcing its establishment of an annual First Responder Student Scholarship.

It is the first full scholarship the school has ever offered.

Ending up at Gibbs Elementary School while being nominated for a "Teacher of the Year" award, Tate-Gunter recalled the first of two emotionally driven experiences with first responders.

Describing gifted third-grade student Issaac Sharp as "witty, smart, sweet and active," Tate-Gunter introduced a video explaining how Isaac and his two siblings, Jordan and Jillian, all ended up — with Tate-Gunter's influence — as scholarship awardees (partial) at Tate's School.

While all three have gone on to high academic achievements, their father, Stan Sharp, is a lifelong "first responder" who currently is Chief of Knoxville Fire Department. Along with Stan's wife, Ginger Sharp, all but Jordan were on hand for the celebration.

"Tate's really laid the foundation for my education," Jillian said in the film.

Tate-Gunter's sister, Tracey Tate Van Hook, executive director of Tate's School of Discovery Foundation and its director of Resource Development, recalled how "first responders" helped save the lives of her father and her son last year.

"I met some of them on May 25 of last year. My dad (Joe Tate) and my son, Andrew, had a head-on collision on Lovell Road," she said. "I had never had my heart race like that … or the fear that comes to you in that moment.

"… Fortunately, my dad and my son made a complete recovery," Tate Van Hook added. "... But what has absolutely stayed with me is the calming voice of that EMT of the fire and rescue team that was there on site."

In establishing an annual First Responder Student Scholarship, with Knox County Sheriff Tom Spangler on hand with Stan Sharp as co-chairs of the scholarship program, "These are the special people in our community and we want to honor them," she said.