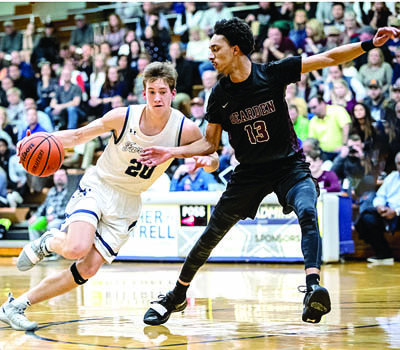 Bearden senior wing Roman Robinson (13) closely guards Farragut's Will Brown during the teams' regular season clash at FHS in February. Robinson and his Bulldogs (29-5) opened Class AAA state tourney play versus Franklin (28-6) in Murfreeboro Wednesday, March 13 (after press deadline).

Looking for the program's first TSSAA boys basketball state title, the Bearden Bulldogs (29-5) opened TSSAA Class AAA State Tournament play versus Franklin (28-6) Wednesday evening, March 13 (after deadline) in Middle Tennessee State University's Murphy Center.

A quarterfinal win would place head coach Jeremy Parrott's Dawgs against either Sevier County (25-6) or Whitehaven (24-7) in the semifinals starting at 1:15 p.m. CDT, 2:15 p.m. EDT, Friday, March 15.

If BHS reaches the state title game, it begins at 3:30 p.m. CDT, 4:30 p.m., EDT, Saturday, March 16, versus one of four teams: Memphis East (24-8 beginning the tournament), Cleveland (29-4), Brentwood (26-8) or Murfreesboro Oakland (24-5).