Road repairs caused by recent flooding, including sinkhole, proving to be costly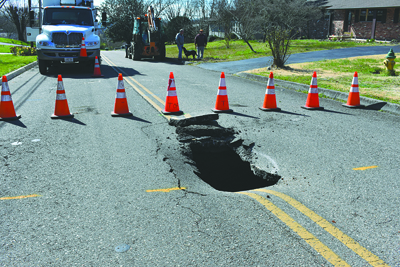 A sinkhole, likely due to the heavy rains experienced during the last month, opened up over the weekend on East Kingsgate Road in Kingsgate subdivision, and Town of Farragut crews were on site early Monday, March 18, to determine damage and repair. KUB workers had to shut off the gas lines before the Town could evaluate, according to road crew foreman Chris Brown. Officials said the road will be closed at least through Friday, March 22. However, residents are still able to access their homes.

At least three Town of Farragut roadways have been compromised by recent heavy rains, with reports indicating repairs will cost the Town more than $300,000 for just two of the projects.

Two, Mapletree Drive in Sedgefield and Red Mill Lane off Turkey Creek Road, have been approved for repairs, while a third, a sinkhole that opened up during the March 15-17 weekend on East Kingsgate Road, is still being evaluated.

The hole that opened up on Mapletree Drive was quickly discovered following county-wide flash flooding, which occurred the weekend of Feb. 22-23, and was caused by a drainage pipe failure. The road has been under repair by Whaley Construction.

Town of Farragut engineer Darryl Smith reported Monday, March 18, the project tentatively is scheduled to wrap up this week, with a cost estimate of "approximately $200,000."

Last week, Farragut's Board of Mayor and Aldermen voted to once again contract with Whaley to perform the repairs to Red Mill Lane, where a drainage pipe failure caused a hole in that road as well.

Smith said the Red Mill project's initial estimate is between $50,000 and $100,000, "but until the contractor is on-site and has started we won't know a more accurate number."

Whaley Construction will not be able to start on the Red Mill Lane project until its Mapletree Drive work is completed, and the company also is working on other road repair projects throughout Knox County, which reported more than 100 road failures.

"We are lucky there were just two in Farragut," Farragut Mayor Ron Williams and Alderman Drew Burnette both said last week during the Board meeting.

While rainwater likely contributed to the sinkhole in Kingsgate, authorities were uncertain of any other contributing factors as of press time.

The sinkhole was first reported as a road fissure, which then expanded into a sinkhole fairly rapidly as the weekend progressed.

As of Monday morning, March 18, the road opening looked to be several feet wide.

Workers from Knoxville Utilities Board cut off gas lines for Town engineers and public works employees to completely evaluate the situation.

Chris Brown, Town of Farragut road crew foreman, said a hole had completely opened up underneath one of the lanes.

However, officials had not been able to examine the other side at the time of the interview.