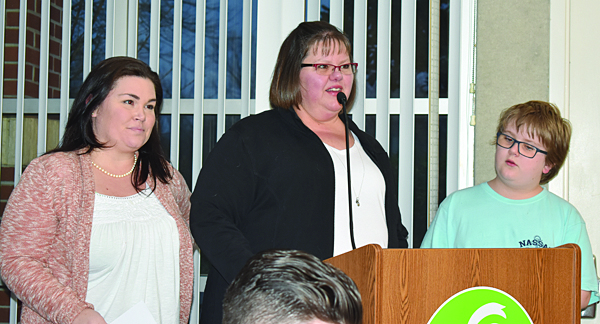 Sonja Drive residents, from left, Kimberlie Parks, Cecilia Freeman and Freeman's son, Cooper, addressed the Town's Board of Mayor and Aldermen last Thursday, March 14, appealing the Town's traffic calming measures, requirements which had not been met.

The news that a second emergency road repair is needed in the wake of recent wide-spread flooding became a point of contention Thursday, March 14, during the regular bi-monthly meeting of the Farragut Board of Mayor and Alderman.

"This is a big issue — it is a huge issue," Vice Mayor Louise Povlin said after the Board officially was informed a pipe collapse necessitated repairs to Red Mill Lane, just off Turkey Creek Road which serves as the back entrance to Kingsgate subdivision. "I am frustrated that now we have two projects that are having to be handled on an emergency basis, and were are unable to bid them out competitively."

Mapletree Drive, located in the Sedgefield subdivision, was the first Town road that had an issue following heavy rainfalls in February. A portion of it collapsed due to the disintegration of an aging underground pipe, and has been closed while undergoing repairs. Initial cost estimates indicate that project will cost around $200,000.

Red Mill Lane also experienced pipe failure, which was discovered during follow-up investigations to last month's flooding. The project is estimated to cost about $100,000, according to officials.

(A third likely weather-related road repair issue, a sinkhole in Kingsgate Subdivision, is not known to have been caused by stormwater drainage, and is discussed in a story beginning on page 1A.)

Povlin went on to say she has become "exceedingly frustrated" that a comprehensive stormwater assessment has not been completed on the Town's underground infrastructure.

"I have been asking for this information for two years," she continued. "We have a huge responsibility and we need to have all the information in front of us."

The Town approved a contract in July, 2018 with the University of Tennessee Water Resources Research Center to assess the stormwater infrastructure in Fox Den, Village Green, Kingsgate, Old Stage Hills, Concord Hills and Thornton Heights, as well as Stonecrest and Farragut View, if time and money permitted, Povlin said in a later interview. That contract also included a list of "Town-identified assets outside of the study area that needed to be assessed.

She said the Mapletree Drive pipe was on that list, but not Red Mill.

"The first year they studied inlets and pipes in Fox Den, Village Green and Kingsgate; this year they are studying Thornton Heights, Concord Hills and Old Stage Hills," Lori Saal, Town Stormwater Coordinator, said in a follow-up interview. "The plan is to continue to look at stormwater infrastructure by studying the older subdivisions first, moving toward the newer ones with the goal of using the results of the study to create and infrastructure maintenance and replacement plan."

Town administrator David Smoak told the Board initial reports from the UT study were "good" regarding the inlet and outlet structures Town-wide.

"But now, we need them to go back and look inside the pipes."

Povlin questioned the pace of the study and called for a town wide assessment.

"Most roads on this (Town-identified) list are from the 90s, but we can't say that these are our only issues," she said, noting several neighborhoods pre-date the Town's 1980 incorporation. "Until (we) are fully educated, we have no business voting on a massive park project."

Povlin said she was referring specifically to upgrades to and expansion of McFee Park, which has been discussed at length by the Board, with $4 million currently approved.

Different options evaluated by the Board last month had estimates from $5.2 million to more than $8 million, depending on park options and amenities it eventually selects.

"We have a responsibility to take care of the stormwater infrastructure," she said by phone in a follow-up interview. "We are required to do that. It is a big deal, and we don't know what we don't know.

"I am not a risk taker, and am very conservative, especially with other people's money," Povlin added.

"I just want assurances that whoever is doing the assessments is providing us with all of the information we need on what needs to be repaired or replaced throughout the entire town. The study is still not done, and I want someone to do it in a timely manner."

Alderman Scott Meyer and Mayor Ron Williams agreed with Povlin, with Meyer stating a need for "an overall evaluation," while Williams said the issue "needs to be looked at closely.

"Our stormwater system is relatively young compared with Knox County," Williams added. "They had more than 100 failures during the flooding), and we fortunately we only had two. I don't think the sky is falling, but it is a situation we need to be aware of."

In other business:

• Sonja Drive residents from Stone Crest subdivision addressed the board, and asked for the opportunity to look into traffic-calming measures on their portion of the road which had narrowly missed the Town's policy guidelines.

"We were only .3 mph under (the criteria)," Cecilia Freeman of Sonja Drive said. "That doesn't mean a lot, but our son walks in the pitch black to school," noting that stretch of roadway has no sidewalk or street light.

Povlin said she didn't want to set precedent, but believed the Town had a responsibility to allow the residents to pursue additional measures, as they are in a "parent responsibility zone" and many have young children who do walk to Farragut Middle and Farragut High School from their homes.

No Board vote was taken on the issue, but Povlin confirmed in a follow-up interview the situation now is in the hands of the residents, who must vote on having speed humps installed.

• The Board unanimously approved on second reading to rezone Parcels 84, 84.01 and 87, located near the intersection of Fretz Road and North Campbell Station Road, from R-1 to R1/OSR, and also to rezone a portion of Parcel 005, Tax Map 151, 501 N. Watt Road, from agricultural to neighborhood/convenience commercial.