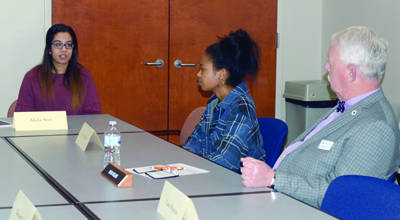 Farragut High School junior Alisha Soni, left, shares her ideas for a Farragut Youth Council while FHS junior Amy Enyenihili and Mayor Ron Williams listen during a Farragut Board of Mayor and Alderman workshop Thursday, March 7.

Projects and events getting youths involved in the community and a program to introduce youths to how the Town works topped ideas Farragut High School students shared for a Youth Advisory Council during a Farragut Board of Mayor and Aldermen workshop Thursday, March 7.

Although five of the youths, who had expressed interest in the council, were absent because of school trips, three — Alisha Soni, student representative on the Town's Education Relations Committee, Amy Enyenihili and Bennett Ogle — were ready with ideas for the council.

Farragut Vice Mayor Louise Povlin, who serves on the ERC, propelled the idea last year — but the goal to get youth involved in the Town got its roots two years prior.

"In 2016 we attended the National League of Cities in Pittsburgh, and they had a huge youth contingent there," she said. "We were all very intrigued with what was going on … we wanted to do that."

Last year, Povlin said initiating a youth council was set as one of the Board's goals. This year, she joined the ERC as the Board representative and "pushed hard for Alisha to be on it as our youth representative because she's with Student Government Association (at FHS)."

While she said the Town does not "run" the schools, she pointed out that does not mean the Town could not take advantage of the skills and talents the youths have.

"Alisha came with some firming up ideas," Povlin added.

"We learned all our (FHS) organizations are targeted to very specific audiences," said Soni, an FHS junior and SGA vice president. "They tend to be at the top 5 percent of their grades academically."

She suggested a council that would target different types of students — not just those at the top of their class but also those interested in serving the Town and being involved.

Alisha said the council's activities could be two-fold: students could be tasked to create a project, such as at the outdoor classroom, or an event for the community, such as the Lawn Chair Concert Series, and get the community involved.

Alisha also suggested offering a way for youths to learn more about how the Town works, such as Introduction to Farragut.

"Students are not really learning about local government," said Susan Horne, Knox County School Board representative that represents Farragut. "There's definitely a place for that."

Ogle Bennett, an FHS sophomore, said students only get U.S. history curriculum because that is what they are tested on in school.

However, he warned if the Intro aspect were set up as a classroom, it could be "off putting" because students already have enough classroom work on their plates.

Amy, a FHS junior, said it would need to be more of a hands-on activity.

One activity was to hold a mock Board meeting while another was a question-and-answer period following an actual Board meeting.