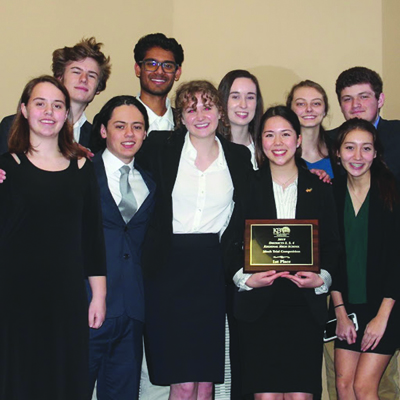 Farragut High School Mock Trial Blue Team celebrated a multi-district (Knox area) championship Sunday, Feb. 24, at the City-County Building in downtown Knoxville. Joined by a few FHS Mock Trial Gray Team members are individuals comprising, and contributing to, the FHS Blue Team's success. Front row, from left, are Abbie Morgan, Blaine Liuag, Camryn Given, Alia Smith and Hannah Brennan. In back, from left, are Nathanael Parsons, Suhil Suresh, Karlyn Simcox, Katelyn Myers and Zach Martin.

Why would Farragut High School students throw their hat into the ring looking to join the FHS Mock Trial team?

Perhaps one reason is obvious: future attorneys begin to learn how to maneuver in a courtroom.

Being part of a winning team might be another: coming off its recent multi-district (Knox area) championship among a 12-school field Friday through Sunday, Feb. 22-24, at the City-County Building in downtown Knoxville, seven members of the winning nine-member FHS Blue team are heading west to face a tougher courtroom test.

FHS Blue represents the Knox area during this weekend's 16-team state competition in a federal courthouse in Nashville.

"Part of it for me was just getting to experience not only the incredible debating and the public life speaking skills that come from this, but also the incredible community that's formed from this activity because we spend a lot of time together," said senior Karlyn Simcox, a Blue team member who is planning "a pre-law tract" in college. "You learn a lot about how to communicate effectively."

As for time spent, "At least nine hours a week (practicing after school) together," she added.

"It teaches you a lot about confidence and public speaking skills," said Alia Smith, a junior.

"Like thinking quick on your feet," added junior Camryn Given.

"It's just a fun club to be in," said senior Blaine Liuag, a three-year team member — part of the 2016-17 FHS Mock Trial district championship team as a sophomore — who added he would "very much like to go to law school and pursue a career in litigation."

Mock Trial has become so popular this school year at FHS, a second "Gray" team was formed. Also a talented group, it is made up of younger students.

"I feel like it really helped us out having the Blue and the Gray teams, because we could play each other — and they were awesome," Smith said.

"We have, probably, about three practices a week and then we meet without them (teachers/coaches)," senior team member Rebecca Fisher said. "It's a lot of work, but it's fun."

"By far one of the best clubs at Farragut High School," senior Katelyn Myers said.

Hannah Brennen, the team's only underclassman as a freshman, said that upon trying out for, and making, the Blue Team "it was really scary, because there are so many upperclassmen.

"When I got on the Blue Team I was super surprised," she added.

However, "I'm really glad that I did just because I feel like they have accepted me," she added. "… I've just learned so much more than just about law.

"And it's so much fun."

Other team members are seniors Suhil Suresh and Zach Martin.

With the Mock Trial team being formed late in the fall semester, practices begin hot and heavy starting in early January's spring semester.

"Every year, the Tennessee Bar Association in Nashville makes a mock trial case for high school competition," Fisher said about the process. "… The case this year is very interesting; it's actually second-degree murder.

"One team prepares two sides of the case, so we have a prosecution and we have a defense," she added. "So there's three lawyers on the prosecution, three lawyers on the defense, three witnesses on the prosecution, three witnesses on the defense."

With only nine members, "There's a lot of crossover, because a lot of us are lawyers on one side and witnesses on the other," Simcox said.

The process "is really testing your ability in the courtroom in general," Liuag said.

As for giving further credit for success, Smith pointed out "our amazing coaches:" Angela Fisher, Ben Collins and Thomas Bailey.

Last year's FHS team finished second in district — among an 11-team field — and also qualified to compete at state.