Dawgs climb out of 9-pt. 1st quarter hole, dominate Memphis East late for program's first state crown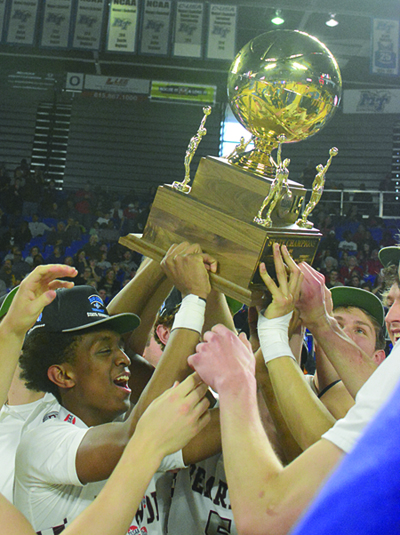 Trent Stephney, left, Bearden All-Tournament senior guard, holds the TSSAA Class AAA "golden ball" state championship trophy, as lots of hands jump in to "feel the moment."

MURFREESBORO — Ques Glover said he had a restless Friday night as he anxiously awaited a showdown with Memphis East in the Class AAA boys basketball state championship game.

"I couldn't sleep at all last night," Glover, Bearden High School's senior point guard, said after the Bulldogs defeated Memphis East 83-68 at Middle Tennessee State University's Murphy Center Saturday, March 16. "I finally fell asleep about 12:30 and I was dreaming about this game.

"I was back up at 6:30 and I went and took a shower and then I stayed up and stretched in my room."

However, Glover certainly looked anything but exhausted when the time finally came for him to hit the hardwood.

He scored 24 points, dished out five assists, grabbed four rebounds and made a steal. He played all 32 minutes of the game and was named the tournament's Most Valuable Player.

The victory avenged last year's loss to the Mustangs in the state semifinals.

While winning the program's first state championship, Bearden became the first Knoxville team to win a Class AAA state title since Austin-East in 1977.

Enter BHS head coach Jeremy Parrott, who came from Cherokee High School and had some big shoes to fill three seasons ago.

"Coach Parrott is a great coach," said Bearden 6-foot-10 senior wing Drew Pember, a University of Tennessee signee and All-Tournament honoree who finished with seven points, seven rebounds, and two blocks.

"I wouldn't want anybody else to be my coach in a state championship game," he added. "He knows what he's doing and he always knew what he was doing. I trust coach Parrott and I love him to death.

"He's really pushed us and this has been a team effort. We don't care who scores and this is a brotherhood."

It was truly a team effort for the Bulldogs, who got 22 points from senior guard Trent Stephney, one of four BHS All-Tournament honorees.

Senior power forward Shamarcus Brown, also an All-tourney choice, scored 15 points (including six clutch foul shots in the final frame).

Despite the happy ending, Bearden (32-5) struggled early.

The defending state champion Mustangs (25-9) opened a 19-10 lead by the end of the first quarter as James Wiseman, a 7-foot-1 center and University of Memphis signee, scored 10 of his 24 points in the opening frame.

"I was concerned about Wiseman, but then they came out and hit a couple of threes and I was wondering whether we could weather that storm," Parrott said, "and then I remembered who my team was and all the storms that they had weathered in the past."

Outscoring the Mustangs 22-12 in the second quarter, Bearden took a 32-31 lead when Glover buried a 3-pointer as time expired in the second stanza.

The Bulldogs never trailed again. They actually took a 51-41 lead when reserve Tyler Nordin made a lay-up with 51.4 seconds left in the third quarter.

Memphis East, however, scored the final four points of the frame to pull to within 51-45.