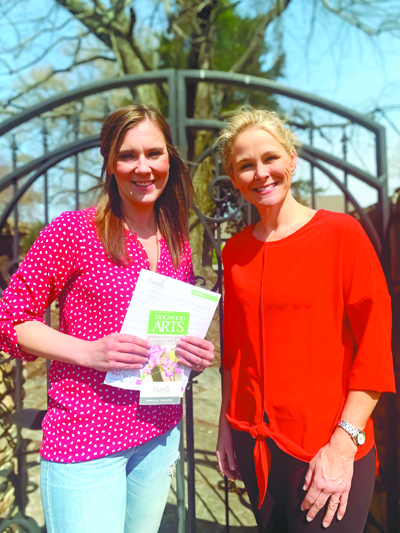 This year's featured Dogwood Arts Trail is Farragut's, which winds through Fox Den and Village Green, and Farragut Trail co-chairs Hana Rothenberg, left, and Amy Boling, have been hard at work, helping coordinate the Trails and Dogwood Arts Festival's kick-off, which will be April 4

Despite a last-minute cold snap, the calendar indicates spring has finally sprung in East Tennessee, which means it's time for the 58th Annual Dogwood Arts Festival to kick off all over Knox County — this year most especially in Farragut, as almost eight miles in Fox Den and Village Green subdivisions represents the 2019 Featured Dogwood Trail.

Officials from the Town, CIty of Knoxville and Knox County, along with Dogwood Arts Festival representatives and volunteers, will gather at 11 a.m., Thursday, April 4, to cut the ribbon at the Kingston Pike entrance of Fox Den, signifying the start of the trail portion of the festival, which runs through April 30.

With more than 85 miles of trails in 12 neighborhoods showcasing its flowers, trees and blooms, Fox Den and Village Green trails are clearly marked with pink road striping. A map book and accompanying literature will be available at the Kingston Pike entrance to Fox Den, highlighting properties and points of interest.

Farragut residents Hana Rothenberg and Amy Boling are the Farragut Trails co-chairs this year, and Rothenberg recently posted on social media about the upcoming event, asking residents to be aware of expected traffic increases, along with a need to keep up properties through the end of the month.

"Keep in mind that we typically see thousands of visitors from all over the United States and Canada," she stated. "This is our time to shine and show the beauty of our homes and neighborhoods."

Farragut is one of seven "Heritage Trails" rotating the Featured Trail designation, said Vicki Baumgartner, Dogwood Arts Festival Trails and Gardens program manager.

Beyond the beautiful trails are the Dogwood events, which in Farragut will include the annual Book Fest, set from 10 a.m. to 1 p.m., Saturday, April 6, in Farragut Town Hall, then the Farragut Trail and Tour Day from 1:30 to 5 p.m., Sunday, April 14.

This latter event is new and will include a tour of the Farragut Museum and screening of "A History of Concord & Farragut" from 1:30 to 2:30 p.m., in Farragut Town Hall.

An open house at Campbell Station Inn is from 2:30 to 4 p.m.; and a bike ride from Campbell Station Inn along the Farragut Dogwood Trail to Echelon Bicycles' Beer Garden.

Other Dogwood events include the annual sidewalk street art Chalk Walk on Market Square; Saturday, April 6.

Hikes and Blooms and Bikes and Blooms are featured throughout the region; the Festival on Market Square is April 26-28; and the Rhythm N' Blooms music festival is May 17-19.

For more information about Dogwood events, visit www.dogwoodarts.com.