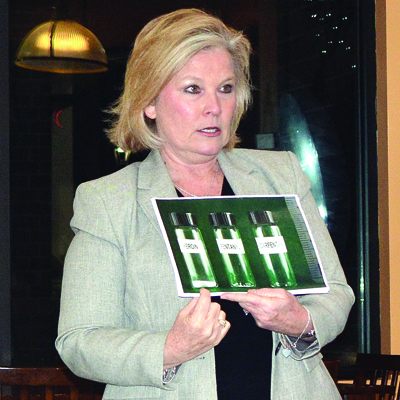 Charme Allen, Attorney General for the 6th Judicial District of Tennessee (all of Knox County), uses an illustration to make a point during her address to Concord-Farragut GOP Club Thursday evening, March. 7, in Fruition Café, 129 West End Ave.

Taking advantage of youthful vigor, while being sensitive and reactive to the legal abuses suffered by the elderly, were major themes of discussion by Charme Allen, Attorney General for the 6th Judicial District of Tennessee (all of Knox County), during her recent address to Concord-Farragut Republican Club.

Prosecuting "about 52,000 cases a year" with a staff of 82 according to Allen, elder abuse cases among that number became a separate task force under her leadership — a groundbreaking move statewide — soon after she took office in 2014.

Saying updates to elder abuse laws had largely been ignored for roughly a quarter century by Tennessee General Assembly, Allen's research to help set up the Knox Elder Abuse Unit hit a snag.

"I was surprised to learn there was not an Elder Abuse Unit in the state of Tennessee," she said during her Thursday, March 7, address in Fruition Café, 129 West End Ave.

Because of its groundbreaking nature, the Knox EAU "for a third year in a row is very active in changing elder abuse laws in this state," Allen said.

Previously, "No one had looked at elder abuse laws (statewide) since the late 80s, early 90s," she added. "That's how outdated it was."

In Knox County during 2018, "we prosecuted just over 1,300 cases of elder abuse," she said.

Among the cases, "children and grandchildren are taking advantage of their parents and grandparents," Allen said specifically about financial abuse, but added, "when we find that financial abuse, we often find neglect as well."

Also being investigated and prosecuted is "the physical abuse of elders," Allen said.

To make law enforcement more aware and better trained to handle elder abuse cases, "last year we trained every single law enforcement officer in Knox County with the (Knoxville) Police Department and (Knox) County Sheriff's Office," Allen said about using a $400,000 federal grant. "We did eight hours of training with each officer.

"It was a huge commitment to get that training done," she added. "Officers are very aware now of elder abuse and what to look for."

Allen said her office also is spearheading a new push to solve cold, or unresolved, cases with a young approach.

This "Cold Case Unit" will incorporate "UT law students to work in our office with (Knoxville) Police Department and the (Knox County) Sheriff's Office to let a fresh set of young eyes sit down and look at those old, cold cases and see if they can put something together," she said. "… That's an example of some of the 'outside the box' thinking that we do in our office."

In terms of taxpayers dollars, Allen said her office "is very, very fortunate here, in that the county picks up 40 percent of our budget. … A lot of rural counties around the state don't have that

"They don't have any county money," she added.