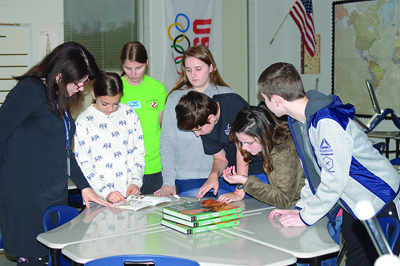 University of Tennessee extension agent Sharon Ann Davis leads Hardin Valley Middle School's 4-H members in a collection contest during club meeting at Hardin Valley Middle School.

Some Hardin Valley Middle School students want to get the word out about a new 4-H Club they have formed at the school.

While the school year is already in progress, University of Tennessee extension agent Sharon Ann Davis, who helps lead the HVMS club, said it is not too late for students to join.

HVMS seventh-grader Will Saylor initiated the club at the school, where it meets at 7:45 a.m. the last Friday of every month.

"I was kind of bummed out that they didn't have a 4-H club here, so I decided to get one going," Will said during a recent 4-H meeting.

"It's fun," he said about the club. "You can really benefit from it. You can get scholarships from it. You can get really in depth with it."

At the beginning of the school year, Will asked his social studies teacher, Maggie Beans, to sponsor the club.

"His sister's really involved at (Hardin Valley Academy), Beans said. "She was involved in national conferences, so I think 4-H has been a big part of his family for a long time."

Once Beans came on board, Will approached and received permission from principal Dr. Cory Smith, and then the seventh-grader put out flyers to students.

Leading into March, five to

six students were attending the meetings, where they show their collections, participate in projects and learn about other

programs in which they can

participate.

"We've been trying to get the word out," Beans said. "A lot of people don't know what 4-H is."

Davis said 4-H is a youth development organization, which started in 1902 and is sponsored by UT.

"We focus on leadership, citizenship, communications and decision making through 26 different projects," she said.

Those projects range from photography to sheep rearing.

She said a child involved in a photography project, for example, would not just take photographs, that student also would be encouraged to talk about the photographs and teach others about photography.

"We want them to help others through projects, like donate a photo session to someone in need, and we teach them how to use things (they learned) to make good decisions," Davis said.

Will is gaining leadership experience as an assistant night group leader for STEM group nights at UT. Additionally, he has been on wildlife judging teams for two years.

"It's really fun," he said about the club. "You can find many friends and learn new things, like you can find ways to make snow without freezing water."

Will said he became involved because of his sister, Hardin Valley Academy senior Brianna Saylor, who now is volunteer leader for the HVMS club.

"It's really cool (Will is involved in 4-H) because I started out, like, hearing from a friend in seventh grade," Brianna said. "Now I'm able to get him started because there's so many cool opportunities 4-H provides you with."

Seventh-grader Emma Zimmerman said, "After the first meeting, I was just hooked in."

"This is my first time (attending)," seventh-grader Lily Fink said. "It's pretty cool."

"I thought (4-H) would be interesting and fun," seventh-grader Chase Mayton said, adding he is hoping to make new friends."

During the meeting, members showed and talked about their collections — coins, rocks, fossils and sea glass.

At the next meeting Friday, March 29, they will participate in either photography or a baking contest.