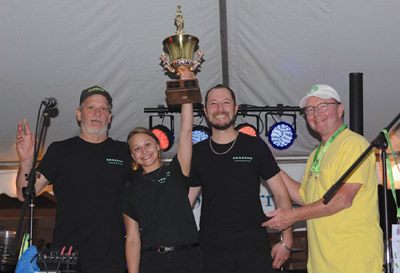 Seasons Innovative Bar & Grille "Best of Taste" champs with Stephen Krempasky, far right, executive director of Shop Farragut/Farragut Business Alliance. Holding the trophy is Megan Ellsworth, general manager. Joseph Pereyo, left, is assistant chef, and Drew Milme is executive chef.

Several hundred Farragut and Knox-area residents enjoyed "The Taste of Farragut," sampling fare and drink from dozens of Town and surrounding area merchants' booths Friday evening, May 3.

This 10th celebration of local culinary and other business talent, which took place in the old Kroger parking lot along Kingston Pike across from Farragut High School, crowned "Best of Taste" — as voted by those sampling for almost three hours — among three food preparation businesses recognized. Seasons Innovative Bar & Grille (see related photo on this page) was champion, with Water Into Wine bistro & lounge (a past first-place winner) taking first-runner-up. The Blue Heron Restaurant was second-runner-up.

A select number of attendees who were willing to pay $75 each enjoyed the Very Important Bites tent, which featured the finest of fine dining from top area chefs and eateries.

In addition to cornhole games for entertainment, attendees danced to the '70s, '80s and '90s tunes of local musical group Round 2.

Shop Farragut/Farragut Business Alliance and its executive director, Stephen Krempasky, annually host The Taste of Farragut, formerly known as Farragut Food & Wine Fest.

For more photos from this event, please see Westside Faces in our print edition.