Renfree is champ in 800, 1600, 3200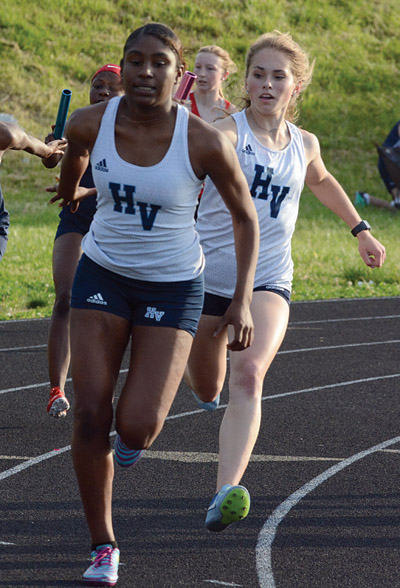 HVA third leg Tori Adams, in back, hands off to anchor leg Timaya Ray during girls 4 X 100 relay.

Jake Renfree went the distance in dominant, though not surprising, fashion during the KIL Track & Field Championships — the talented Knoxville Catholic senior and University of Notre Dame signee won the 800, 1600 and 3200 distance runs.

Team-wise, however, it was Hardin Valley Academy sweeping the girls and boys titles on their home track after the two-day event wrapped up Tuesday night, April 30.

The Lady Hawks, finishing with 117.50 points to beat runner-up Knoxville West (105.50), were among three local teams having multi-event winners.

Dominique Romain of HVA doubled up as winner of both the 100-meter dash (12.06) and 200-dash (25.31). Teammate Kensi Gray was 800 champ (2:16.43).

In girls field events, Hawk Anjonae Benson took top honors in shot put (33-07.25).

In the relays, the Christian Academy 4 X 100 foursome of Chloe Henderson, Raegan Helton, McKinley Blackburn and Antiya McAlister was champ (48:78).

Henderson, Blackburn and McAlister were joined by Ariya Rice (second leg) to capture the 4 X 200 crown (1:44.14). These winning efforts helped CAK finish third (86.50).

Despite having no first-place efforts, Farragut took fourth (74) led by Cathy Hu's second-place finish in the 3200 (11.30.14) and her second leg contribution in the 4 X 800 runner-up showing (9:46.60) with Lexi Foley, Summar Ebbert and Caroline Carr.

In the 100-hurdles, Webb's Kai Lanier finished first (15:48) while Stephani Franks was No. 1 in pole vault (10-00.00), boosting their team's finish to fifth (74).

Catholic's Callie Tucker claimed both the 1600 title (5:21.46) and 3200 crown (11:18.59), while teammate Kelsey Miller captured the 400-dash title (59.73).

The Lady Irish also took top honors in the 4 X 400, with Miller joined by Anna Witsoe, Mary Oakley Robertson and Eleanor Mancini (4:02.30). These results highlighted a sixth-place finish (70) for KCHS.

Boys results

The Hawks blistered the field with 135 points, as runner-up Austin-East ended well behind (87).

Miguel Parrilla of Hardin Valley was No. 1 in the 400 (49.47), and was the first leg of the Hawks' winning 4 X 100 relay team, joined by Austin Rome, Luke Anastasio and Kelton Gunn (3:22.79). On the field, HVA's Luke Filipkowski was longest in shot put (48-08.25).

Luke Etherton of CAK was champ in discus (134.03), while teammate Gabel Fulford was No. 1 in 100-dash (14.89) to help the Warriors claim third (79.50).

Farragut's championship 4 X 800 foursome of Jacob Cohen, Scott Grunau, Jake Allison and Ben Darden (8:13.39) helped the Admirals finish fourth (77).

John Rentenbach of KCHS topped the field in pole vault (14-00.00), which along with Renfree's 30 points helped the Irish claim fifth place (62).

Renfree's winning times were 1:53.58 (800); 4:27.52 (1600) and 9:43.73 (3200).

Sectional state qualifier

TSSAA girls and boys Sectional state tournament qualifying meet (top four advance in each event) is Friday, May 11, in Kermit Tipton Stadium at Science Hill High School in Johnson City.