Hardin Valley Academy celebrates May 2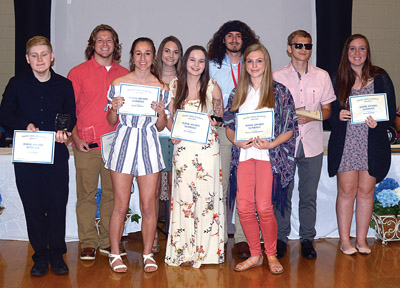 Nominees chosen for Hardin Valley Academy's Hawk Award during its awards ceremony in the HVA Gymnasium Thursday, May 2. are, front row from left, seniors Seth Grom, Shane Embury, Olivia Fleenor and Rebecca Witherspoon. Back row, from left, are seniors Travis Griffin, Anna Martin, Noah Moro, Illya Popov and Hannah Selph.

Hardin Valley Academy celebrated the many accomplishments of its graduating seniors during an awards ceremony in HVA Gymnasium Thursday, May 2.

"Today we want to showcase how much the Class of 2019 has accomplished since they arrived at HVA four years ago," HVA principal Sallee Reynolds said.

She recognized students who competed from the district to the national level, including athletes, gifted students participating in a state Governor's School, performing and visual artists and future leaders.

"Hardin Valley has an abundance of student leaders," assistant principal George Ashe said, adding those leaders ranged from club officers to co-captains of athletic teams.

Other students contributed at least 20 hours of personal time to a community or school service effort, and about 60 students obtained endorsements for community service while participating in a senior portfolio program.

"Academy endorsements are unique in Knox County to Hardin Valley Academy," Ashe said. "Obtaining an endorsement requires a great deal of time and dedication.

"The seniors who are receiving academy endorsements have completed a rigorous academic program, dedicated 50 hours to community service and participated in the senior portfolio experience," he added.

Reynolds said 87 seniors earned a 4.0 or high-er grade-point average.

"The competition has been stiff as they have tried to rise to the top, but from the 435 HVA seniors, 11 students have done just that," she said. They are: Pierluigi Cambie-Fabris, Cole Duffy, Shane Embury, Peyton Gilmore, Hannah Greene, Bryson Gullett, Nicholas Lawrence, Robert Seaman, Hannah Selph, Meriah Senogles and Cullen Wilkes.

Out of those, the top five were Duffy, Embury, Gullett, Selph and Senogles.

Gullett, who earned a 4.5556 GPA, was named valedictorian. Embury, who earned a 4.4638 GPA, was chosen salutatorian.

Heart of Hardin Valley Award, earned by Illya Popov, is "given annually to an individual who has overcome many personal obstacles throughout his or her four years at HVA, yet has maintained a positive attitude and a 'can do' spirit," Reynolds said.

Every year a senior is chosen for the Hawk Award, which Reynolds described as "the highest award voted on by the Hardin Valley Academy faculty and is bestowed upon a graduating senior."

While the student chosen is announced at graduation, which is Saturday, May 18, in Thompson-Boling Arena, this year's nominees are Embury, Popov, Selph Olivia Fleenor, Seth Grom, Travis Griffin, Anna Martin, Noah Moro, and Rebecca Witherspoon.

The award "is presented to the student whose performance has exemplified the finest qualities of HVA," she said.

Some teachers also were recognized as nominees for Teacher of the year. Of the nominees — Meshon Crateau, Leigh Anne Cutshaw, Candace Farrow, Teal McInturff, and Vivian West — West received the Teacher of the Year Award.

Michael Davis and Gullet were named Commended Students in the National Merit Scholarship Program, and Embury and Nicholas Lawrence were named National Merit finalists.

Advanced Placement Scholars receiving scores of 3 or higher on three or more AP exams were: Karis Anastasio, Savannah Bowen, Morgan Brown, Ashley Conser, Lucas Cunic, Destry Fugate, Hannah Greene, Seth Grom, Lena Jerkins, Morgan Jones, Matthew Jones, Shawn Norman, Neil Patel, Hutchison Peter, Julia Pierce, Lorren Politano, Eliot Snyder, Anna Spates, Jack Vaughan, Harris Wadley, Rebecca Waite, Cullen Wilkes and Adam Wunschel.

AP Scholars with honor, who received an average score of at least 3.25 on all AP exams taken and scores of 3 or higher on four or more of these exams, were: Tyler Bell, PG Cambie Fabris, Knox Crichton, Jack Elam, Joshua Henninger, Jordan Lyons, Kailin Nguyen, Benjamin Palya, and Meriah Senogles.

AP Scholars with Distinction, who received an average score of at least 3.5 on all AP exams taken, and scores of 3 or higher on five or more of these exams, were: Sarah Beuchat, Jacob Dickert, Peyton Gilmore, Bryson Gullett, Ashlyn Ivey, Ashni Jagger, Cole Lawrence, James Parrish, Holly Pratt and Brianna Saylor.

Cambrie-Fabris participated in Boy's State while Morgan Dailey and Adie Fox participated in Girl's State.

"Each year, a select group of youth in Tennessee participate in a Boy's State and Girl's State, a week long (American Legion-sponsored) program centered on citizenship and teamwork as they elect city, county and state officials, engage in party politics and debate legislation, thereby providing the tools they need to become confident, informed citizens and voters," Ashe said.