Hugs at Farragut High School April 30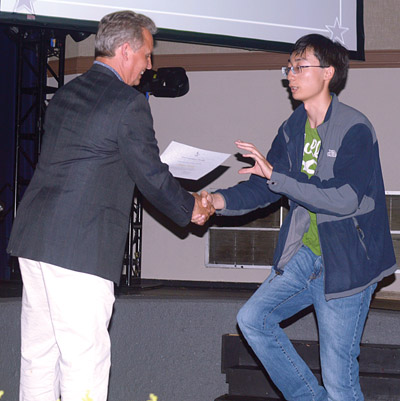 FHS assistant principal Steve Killian, left, presents the salutatorian award to senior Elliot Fang.

Joyful tears and hugs marked Farragut High School's Department and Senior Recognition Awards Ceremony in Vickie B. Wells Auditorium Tuesday evening, April 30.

"These kids have touched me on such a personal level," FHS math teacher Angie Buckman said as she presented awards to her students, Erika Yang and Elliot Fang.

"They just won our hearts," she added as she related how they showed her compassion during a time she was out sick.

The two seniors were among 73 who earned accolades — from department awards to scholarships to community awards.

"We've got a phenomenal school here," assistant principal Steve Killian said, adding this is his first year at FHS. "You just can't do better."

Students were lauded by teachers and staff for their drive, hard work, reliability and spirit. The event was an opportunity to recognize the salutatorian, Elliott Fang, while the valedictorian will be named at graduation Saturday, May 18, in Thompson-Boling Arena.

Annual Charlotte and Lendon Welch Scholarship, which honors the late FHS teacher and coach Lenden Welch and his wife and teacher, Charlotte, went to Jakob Allison for track and field and David Mashburn for football.

Two seniors will have their education paid for by the U.S. military. Alleyah Lynch received a $63,000 ROTC Air Force scholarship to the University of Tennessee, as well as a $900 per year textbook scholarship and a $300 monthly allowance that increases each year up to $500. She would graduate college as a commissioned officer.

Conner Taylor received a $180,000 ROTC scholarship from the Navy.

Other community awards included:

• Alpha-Pi-Omega Foundation $2,000 scholarship went to Spencer Wood;

• American Legion School Award went to Nicholas Cole and Daniel Halstead;

• Barney Thompson Scholarship for $500 went to Maggie Atchley;

• Another Beacon Award went to John Gray and Aaron Miller;

• Cedar Bluff Farragut Optimist Club sports awards went to Samantha Ackermann, Sydney Cherney, Abigail Dye, Christoffer Harmon, Madeline Horn, Andrew Howell, Torey Newsom and Morgan Smithson;

• Commercial Bank Spirit Scholarship to Amy Cloud;

• Daughters of American Revolution Good Citizenship Awards to William Thorley;

• East Tennesseee Foundation Cobb Scholarship to Christoffer Harmon;

• John Mauer Scholar Athlete Award to Kyle Carter;

• Lawrence Strader Boy Scouts of America Scholarship to Spencer Wood.

• National Achievers Society Stole presentations to Hwangyu Baek, Guido Del Rosso, Julian Ragos and Spencer Wood;

• National Merit Scholarship to Elliot Fang;

• Ned McWherter Scholarships to Inshira Bediako, Diba Seddighi, Michael Tonos and Daniel Zetterberg;

• Prudential Spirit of Community Award to Rebecca Fisher;

• The Shoup Scholarship went to Nicholas LiMandri; and ...

• Tennessee School of Beauty C.B. Brown Scholarship for $3,000 went to Madison Walter.

Department awards went to:

• Art to Justin Alton, Emily Anderson and Madison Vagott;

• Band to Erika King, Michael Tonos and Scott Weathers;

• Chorus to Katherine Lin and Dakota Paschel;

• Beacon awards from special education teacher Tiffany Johnson to Erika Aguileta, Eli Mengel;

• Business to Ashley Bradley;

• Counseling office to Amy Cloud and Zane Jessee;

• CTE to Carson Murphy and Kaleigh Powers;

• English to Maggie Atchley and Samuel Liske;

• Film to Justin Alton and Guido Del Rosso;

• Library to Ryan Dorman;

• Math Elliot Fang and Erika Yang;

• Orchestra to Lauren Ferguson;

• Physical Education to Daniel Amann and Nathan Overall;

• Science to Hannah Lee and Adam von Arnim;

• Social studies to Karilyn Simcox and Konrad Szymanowski;

• Theater to Anna Grace Gragg and Hannah Varner;

• World Languages to Anna Elise Galler for French, William Thorley for German, Inshira Bediako for Spanish, Mick Eun and Lillian Nowell for Latin and Paige Gleason for Russian.