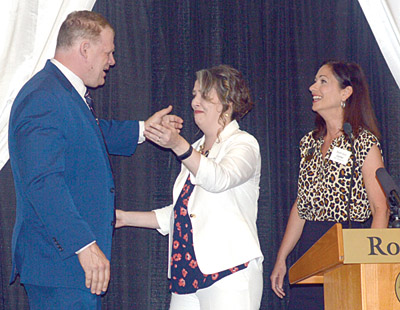 Knox County Mayor Glenn Jacobs is thanked by Julie Blaylock, center, Farragut West Knox Chamber of Commerce president/CEO, after he announced $50,000 had been set aside from the county budget for FWKCC — which had never been done — during his address as featured speaker at the Chamber's Breakfast Speaker Series Tuesday, April 30, in Rothchild Catering & Conference Center. Beth Ann Carter, Chamber Board chair, also expressed her delight.

Farragut West Knox Chamber of Commerce got a much-appreciated shot in the arm when Knox County Mayor Glenn Jacobs presented the organization with $50,000 from the county budget.

"You guys do a wonderful job. Please keep on doing that," said Jacobs, who made the announcement and check presentation — along with John Schoonmaker, 5th District Knox County Commissioner (which includes Farragut) — as featured speaker during a FWKCC Breakfast Series in Rothchild Catering & Conference Center Tuesday morning, April 30.

While Town of Farragut annually contributes to FWKCC, this will be the first time Knox County has made a contribution according to Julie Blaylock, Chamber president/CEO.

"The Farragut West Knoxville Chamber of Commerce is a remarkable organization, and I believe they can do an even better job with our support," Jacobs said during a public budget follow-up meeting in the Farragut Library (Founders Park at Campbell Station) Friday, May 3.

"They have membership from all over the county, not just in Farragut, and they are paying big dividends back to the county," he added, noting his own Halls-based insurance business is an FWKCC member.

Blaylock was brought to tears as she accepted the super-sized check. "Mayor, on behalf of our board, on behalf of my staff, on behalf of our businesses, my knee-jerk reaction is to say that you have no idea what Knox County support means to us," she said. "From the bottom of my heart, thank you.

"I assure you that we will always continue to strive to meet and exceed the needs of our business members."

After the event, Blaylock said the Chamber is "going to reach back out to Knox County and to see if they have some specific ideas, suggestions of things they would like to see us do for businesses in the county.

"But certainly our board of directors and my executive board will be having conversations about how we can best utilize these funds so that they have the greatest impact," she added.

"The Farragut West Knox Chamber has done an outstanding job of promoting the small businesses in our community," said Schonnmaker, noting FWKCC has membership in four of the nine Knox County districts.

"... They host terrific events, also the networking events are great, and they are part of the growth of Knox County, and they deserve to have this funding," he added.

"I thought it was awesome," Chamber Board chair Beth Ann Carter said.

"I'm really excited that we have this mayor in office now. I think he's going to do great things for our community and our county.

"I think he's just going to propel us into the future of technology and wonderful things," she added.