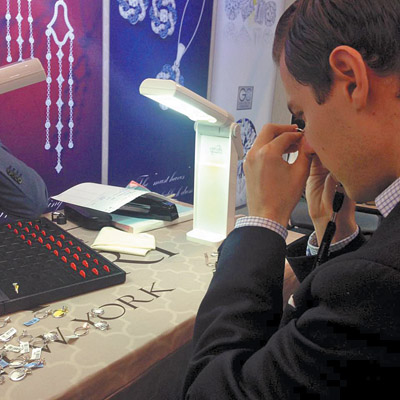 Broderick Hicks, BW James Jewelers director of operations, works on a ring for a customer at the Cleveland store. The company will be opening a store in Turkey Creek Friday, May 31.

BW James Jewelers is opening a new location in Turkey Creek this month.

The store, which specializes in engagement rings, will open its location Friday, May 31, in Parkside Station next to Fleet Feet, 11623 Parkside Drive.

"I am very excited to come to the turkey creek area," said Broderick Hicks, director of operations. "We will be able to offer the community engagement rings, wedding bands and other fine jewelry such as earrings, necklaces and diamond and color stone rings and much more, at direct mine-to-market pricing."

The company's slogan is "Engagement Rings Direct."

"We skip the middle man to save our customers 30 to 50 percent versus other chain jewelry stores," Hicks said. "We also don't charge for our lifetime warranty. It's included with every purchase."

BW James, which has been family owned since 1948, has locations in Cleveland, Chattanooga and Athens.

Hicks said the company decided to add a store in Turkey Creek because "we really like the amount of retail options for food, shopping or almost anything you could want — all in one area."

The store offers more than 1,000 options in engagement rings, for example.

"We can custom-make almost any jewelry any way our customers wants," Hicks said. "We let you be the designer, and we have state of the art technology to even let you virtually try on the design you made."  

The store will be open from 11 a.m. to 7 p.m., Monday through Friday; from 11 a.m. to 5 p.m., Saturdays; and closed Sundays.

For more information, Hicks suggested following BW James Jewelers on Facebook, Instagram or online at bwjamesjewelers.com.