Farragut Community Group leaders hit brick wall approaching Knox County government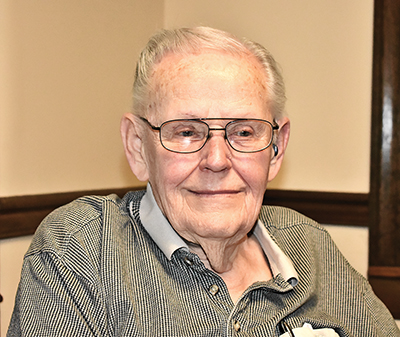 Gene McNalley

There was an occasional victory when citizens in southwestern Knox County, in what is now the Town of Farragut, battled Knox County Commission, then known as "County Court," and Municipal Planning Commission in the late 1970s.

Rare indeed.

Gene McNalley, then a Tennessee Highway Patrolman living in Kingsgate subdivision, was chosen to be its homeowners association leader to fight developer plans to build an unwanted — and allegedly dangerous — road through this subdivision in 1978.
Foundations: 40 Years of Farragut
Gene McNalley is a retired Tennessee Highway Patrolman who is credited, among other Farragut Community Group members, with reducing the threats faced by FCG members as its security arm. McNalley said his main reason for incorporation was different than most other FCG members. This weeks Foundations: 40 Years of Farragut podcast is presented by LCUB (Lenoir City Utilities Board)
Approaching Knox MPC, "We stopped the road going through Kingsgate," said McNalley, who moved there in 1972 after being "transferred from Middle Tennessee."

But McNalley and fellow members of what became Farragut Community Group would grow weary dealing with county government — ultimately hitting a brick wall when seeking road improvements, zoning updates and enforcement of property laws and regulations.

"I started going to the Metropolitan Planning Commission meetings and the County Commission meetings," FCG member Betty Dick said.

By the spring of 1979, Dick would be joined by fellow FCG members McNalley, Eric Johnson, Ron Simandl, the late Jess Campbell (a prominent Knoxville attorney), George and Julie Dorsey and the late Dr. Ralph McGill and wife, Marianne McGill.

About Harold Beal, KCPC chair in the late 1970s, Dick said, "He did not really appreciate us coming down there and hearing what we had to say, and kinda insulted us. Tried to put us in our (place).

"Also, he really made Ralph mad," she added. "He told Ralph he wasn't allowed to speak. Ralph was addressing the creek overflowing in Village Green, and those type of flooding issues in the county that were not being addressed by anybody.

"Ralph was going through some technical stuff, explaining his position and our position out here, and Harold Beal didn't want to hear what Ralph had to say."

Tired of dealing with Beal, "Ralph just slammed his stuff down and walked away," Dick said.

"We kept talking about floodlines next to us, and we had a map up on the table, and one of the commissioners — I won't name his name — said, 'Oh, we can change that. We'll just pencil it over here.' And we all looked at each other like, 'how does that change the situation?'" Marianne said.

"We'd go to meetings and we'd be put off, because when the developers would show up, and they saw residents' resistance to it, they would ask for the issue to be delayed," Johnson said. "So you'd come back next month and we'd show up, and be delayed again."

"Every time we'd go they would postpone the meeting," Marianne said. "... We would take hundreds of people down there to fight it because other people felt the same we did.

"It was very disheartening because you think you've got all these people who are interested in what's going on in our community, and they're not even listening to us," she added. "But we thought, 'this is worth fighting for,' so that's what we did.

"We would all troop down there, whether it was 10 of us or 200 of us. It was very maddening."

"It was obvious they were just going to wait us out," Johnson added. "We were working for a living, and we couldn't afford to come there all the time."

Another concern, according to Simandl, was incorporation plans by the City of Knoxville and then Mayor Randy Tyree.

"We had been attending the county Planning Commission meetings and were very frustrated," she said. "… They were rather arrogant down at the Planning Commission," thinking "we were a bunch of hicks out here."

After several months of pleading with Knox County government, "We just basically threw our hands up," Marianne said, adding two Village Green houses at that time "went up without building permits, and that was the kind of thing that was going on.

"No indication that they saw there was a floodway there or anything, they just started building, and that was what really raised the hair on the back of our necks," she also added. "Our property was being encroached upon by this water."

Labeling this "our last battle," Marianne said, "We were just livid."

Among those most upset, "Ralph was so livid he said, 'I'm going to run for something, I'm so angry right now," she said.

"And so, finally, after so many times going down there and getting up and speaking, we said, 'let's get together and work together, and that's what we did," Dick said.

"So after one of the meetings, we were kind of standing around talking and said, 'I think we can do better than this,'" Johnson said.

"I guess that's about the time we decided to go ahead and incorporate. … By the fall of 1979," he added. "It was after about six months of going down to County Commission — and I guess a lot of frustration."