Door-to-door 'sales,' compiling voter rolls key for planning incorporation vote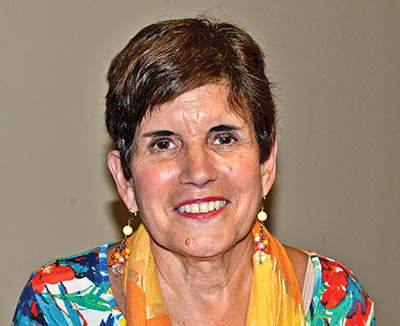 Joining Farragut Community Group alongside her husband and eventual group leader, the late Dr. Ralph McGill, Marianne McGill's battles didn't end when citizens voted to incorporate into the Town of Farragut on Jan. 15, 1980.

Less than 24 hours before making their plans public to incorporate in late fall 1979, with the boundaries of what would be called the Town of Farragut apparently set, members of Farragut Community Group suddenly realized they made a potentially fatal mistake.

Happening to pass by a map of the City of Oak Ridge at Oak Ridge National Laboratory, civil engineer Eric Johnson, was about to panic: the group was so consumed with compliance concerning town boundaries and the City of Knoxville, boundaries near Oak Ridge were drawn too close.

"Then, if you were within a

municipality of say, 20,000 people or more, they could stop your incorporation immediately," Johnson said. "… We didn't think of Oak Ridge.

"I don't think there was any reason Oak Ridge would stop us, but you don't know how politics works and we didn't want to take a chance," he added.
Foundations: 40 Years of Farragut
Joining Farragut Community Group alongside her husband and eventual group leader, the late Dr. Ralph McGill, Marianne McGill's battles didn't end when citizens voted to incorporate into the Town of Farragut on Jan. 15, 1980. She went on be elected as an aldermen from the North Ward, serving on the first Board of Mayor and Aldermen in April 1980. Helping to build the Town as an elected official, McGill served four years (until April 1984). While telling her own story, McGill also brings to life unknown or little known thoughts, feelings and actions of her late husband, who would later serve about nine years as mayor (2009-2018). This weeks Foundations: 40 Years of Farragut podcast is presented by Cindy Doyle Start Farm Insurance
"That night, before we went public, was a very exciting night," FCG member Betty Dick recalled.

Attempting a last-hour fix to re-draw the boundaries, "Everybody met at my house," Dick said. "And Eric and (the late Dr.) Ralph (McGill) went out in the boonies. At that time there were no cell phones, so they would go down to the Flying J (truck stop along Watt Road) and call the house and give Dave (Rodgers) coordinants. And Dave would dictate to me and proofread."

"They were running around like mad redrawing," FCG member Gene McNalley said of Johnson and Dr. McGill, who succeeded in making the necessary overnight changes.

A key change in proposed boundaries in regard to Oak Ridge, according to FCG member Ron Simandl: We cut out a corner up there at the truck stops (along Watt Road)."

Keeping a secret

Wanting to keep its annexation plans a secret so City of Knoxville officials, led by Mayor Randy Tyree, wouldn't annex major portions of the proposed incorporated area, "We're amazed it didn't get out because we had to go door-to-door trying to get

money from people so this could go forward," FCG member Marianne McGill said. "And we told people, 'You can't say anything.' Can you imagine that happening today? No.

"I just feel like it was a miracle; everything just kind of fell into place."

About acquiring names for a Farragut voting list, "The thing is we had to do that without letting them know what we were doing," Simandl said, adding, "It was done very well. Nobody suspected anything downtown."

Getting a unique opportunity to make its move, "Ralph said, 'We're going to announce because Randy Tyree's going out of town … he went on vacation," Dick said. "Ralph called all the news media: radio, TV, the newspapers, that there was going to be an announcement at Village Green clubhouse."

However, "Only one reporter showed up," she added. "We were later told there were some in the back.

However, "The word got out very quickly."

Door-to-Door

"We had to do some fundraising, too, so we all went door-to-door in our neighborhoods," Dick said.

"We didn't go to every door.

We went to people who we thought would support us," she added. "When we went public we got a lot more volunteers."

Moreover, "We had to go door-to-door to take a census," Dick said. "My husband (Jeremy Dick) helped me take the census.

"There were some houses we did miss because they weren't safe to go in," she added.

Simandl said he "walked holes into my shoes doing Kingsgate, Linda Heights, Belleaire since I was in (what would become) the South Ward."

Meanwhile, "I think I lived on the phone," he added.

Dr. George Dorsey, an organic chemist at ORNL and an

FCG member, "knew people in Fox Den, Village Green that he could talk to and bring along." Simandl said.

However, for all the door-to-door effort, the most difficult task was "convincing people," Simandl said.

About the leadership of the Dr. McGill within the group, "He was very organized," Simandl said.

Election Commission

About getting future Farragut resident information, "We had to go down to Knox County (Election Commission) and go through all the books of registered voters and figure out which ones were in that area of who could vote, and who couldn't vote, after we had drawn the lines of where we wanted it to be," McGill said.

Copying addresses from voter registration files at KCEC, Dick and Jan Johnson, then wife of Eric Johnson, "copied from roll books. … I think it took us

three or four days to go through them all.

"Then we had to copy them to our own election book," she added. "In doing so, we did miss a few people, which didn't go over well. We didn't intentionally miss anybody."

Also needed when interacting with the public, "We had to collect money because we had to pay the Election Commission to hold a vote."

When completed, "We gave it to Ted Lundy, he was a squire," Dick said.

Voting day on the question of incorporation would be Jan. 15, 1980.

Overall, "Boy it was a frantic time," Simandl said. "We had to get this done in a few months."