An emergency, annexation requests,ordinance-building facing new Farragut Board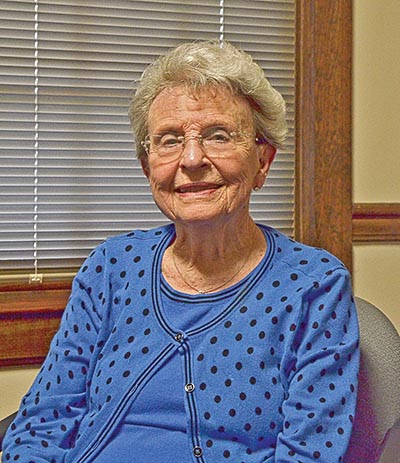 Marie Leonard is the widow of late Farragut Mayor Robert "Bob" Leonard — the Town's first mayor when the Board of Mayor and Aldermen were elected April 1, 1980, before taking office six days later, April 7.

While reflecting on how the new Town of Farragut had "no money in our hands and no place to meet, no staff" soon after the first Board of Mayor and Aldermen came to power on April 7, 1980, then Alderman Eddy Ford recalled a burdensome thought: "'We have the whole Town to be concerned about.'"

Later that month, Ford said he realized firsthand about the responsibilities ahead — the need for Town public works support following weather damage, specifically.

"There was a major thunderstorm in the Town," he said. "And I get a call about 10 o'clock at night: 'Eddy, we've got a road washed out in the Town of Farragut, Village Green. Come and look at it.'"

Joined by "three other aldermen," Ford said, "We were looking at a hole in the road. We had no public works, no monies.

"I made a suggestion to the group: I had a friend, Bill Maney, who had retired from the Tennessee Department of Transportation," he added, saying Maney was a Town resident and "a great guy."
Foundations: 40 Years of Farragut
Marie Leonard is the widow of late Farragut Mayor Robert "Bob" Leonard — the Town's first mayor when the Board of Mayor and Aldermen were elected April 1, 1980, before taking office six days later, April 7. This weeks Foundations: 40 Years of Farragut podcast is presented by .
Advising to use money "accumulating from the wholesale beer tax fund" to pay for the fix, the Board agreed on site to hire Maney and "his contacts" to fix the hole, Ford said.

"That taught me a lesson right there," he added. "'It's going to be my responsibility, along with the other members of this Board, to take care of these types of problems.'"

Maney, who was hired as first Town engineer, "was very good on checking road projects," then Alderman Eric Johnson said.

"Bill was with the Town for 10 years as a part-time engineer," Ford said. "He did a great job for the Town, and we needed that type of service."

From the beginning

With Judge Joe Johnson swearing in the first Board of Mayor and Aldermen on April 7, 1980, its first meeting happened immediately in "the mini auditorium" at Farragut High School, where the Town's "first four meetings" would be held, Ford said.

At the first meeting, "It was a surprise to me" concerning Sweetbriar and Woodland Trace subdivision homeowners association leaders being on hand requesting annexation into the new Town, Ford said. "They were annexed on Aug. 14, 1980."

Also among their initial actions was choosing Millie McBride as the Town's first Recorder on a part-time basis. "She was to receive no pay," Ford recalled.

Also passing on "first reading" was hiring the late David Rodgers as first Town attorney.

"May I say, from the very beginning, Dave Rodgers was an excellent attorney for the Town of Farragut," Ford said.

Board chemistry

"Just about every single vote was 3-to-2, and you can kind of figure out the vote," Alderman Marianne McGill said about she and fellow Farragut Community Group Board members Johnson and George Dorsey voting together — with Mayor Leonard and Ford voting opposite.

"Density, housing, you name it — they wanted to make it more lax, whereas we didn't want to make it more lax," she added. "… It got kind of heated a lot of times.

"But I think it all worked out well."

In terms of getting Town ordinances on the books during the "first several months … you had to read them all out loud," McGill said about the requirements for any ordinance to become legal. "We would meet at least a couple of times a week from 7 (p.m.) until 1 in the morning most of the time. It was a long, arduous situation."

"When we formed the Town we met twice a week until midnight for a while, then we met twice a week until 10 o'clock and once a week until midnight," Johnson said. "We put a lot of hours in."

Mayor Leonard

"When they were debating about everything, I said, 'you'd be good at that job (of mayor).' … I thought he ought to run," recalled Marie Leonard, widow of this prominent Knox County attorney — and counsel for First Utility District, which had been supplying water to what was now Town of Farragut about 25 years previously — about talking him into running for mayor.

"I regretted saying that when they started having those meetings at all hours of the night," she added.

Among the first mayor's talents, "Bobby was so good at compromise," Marie said.

In his praise of Mayor Leonard, Ford said, "He wanted the Town to be an image of dignity in response to the situation that you were in.

"And I deeply appreciated that," he added. "It was a good way to start."

Later hires

On Oct. 2, 1980, Mary Lou Koepp was hired as the Town's first full-time employee (recorder). "Mary Lou was excellent in her position," Ford said. "… She served the Town for approximately 25 years."

About hiring Jack Hamlett as the first Town administrator in January 1981, "I was impressed with Jack," Johnson said, adding the Board ended up unanimous in voting to hire Hamlett.

"We were very fortunate in our first hire of Jack Hamlett," Ford said. "He was young, energetic, enthusiastic."

Hamlett was credited with "putting in place two parks (Anchor and Mayor Bob Leonard) … and doing an excellent job in moving the Town in a direction where we became an entity where people would go for answers and action," he added.