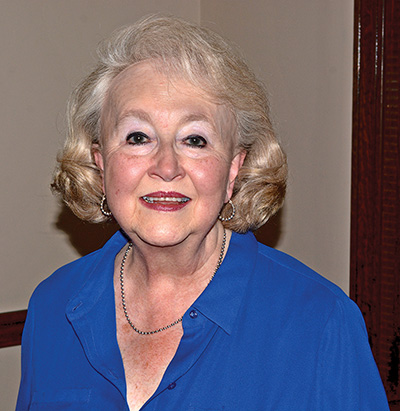 Jeanne Sellars

One of Farragut's oldest businesses has a "sign ordinance story" to tell from the early 1980s.

"Signage was difficult … there was a lot of adjusting and learning with all of that," said Jeanne Sellars, founder/owner of Dance Center West, Inc., featuring ballet, jazz and tap-dancing for children 3 to 18 in what is now Town of Farragut since 1976.

First, some background

"We were first in Farragut Center, across the street from Village Green," she said. "Jack Bevins used to own that — Jack and Mary Bevins — he was the pharmacist there. I rented from him in two different locations."

Starting out with "30 to 40 students," Sellars said, "The first location is where Prestige Cleaners is now, in 1976."

However, Jack Bevins "came to me and told me, 'these cleaners want my space because they can do a drive-through right there at the end of the building,'" she said. "He asked if I was willing to move over to the other side of Farragut Center, in that breezeway area.
Foundations: 40 Years of Farragut
Encouraged by her parents to pursue a love of dance dating back before kindergarten, Jeanne Sellars has been owner/founder of Dance Center West, Inc. in what is now the Town of Farragut since 1976 — marking the studio, located in West End Center since 1995, as one of the Town's oldest businesses. Having taught "thousands of students for 45 years," which includes the business' start in Lenoir City, Sellars also gives vivid detail about her love of dance as a tiny child in our Podcast (see location below). She also reflects in detail how she nurtured that same love of dance in her daughter, Tracy Sellars Kiumarsi, who has followed in mom's "dance steps" as an instructor at the studio (also explored more closely in the Podcast). This weeks Foundations: 40 Years of Farragut podcast is presented by Mr. Handyman
"And I was willing to do that" in 1977.

In 1981 she found a location across Kingston Pike in Village Green Shopping Center next to what was then a White Stores.

"It was ideal for my needs," Sellars said. "So when it became open we moved across there for several years."

Signage issues

"I had real nice big, white letters on the dark roof over at Farragut Center, and had to move my sign over to Village Green (Shopping Center)," she said, therefore losing her "grandfathered" status.

"After I got those installed, someone approached me — I'll never forget, I was in the middle of teaching a class — it was a lady who informed me my sign was not acceptable," Sellars added. "That it was not according to regulations. I had invested a lot of money in those big letters.

"She gave me a period of time, about 30 days, to do something about it — and told me if I didn't, I would be fined. That didn't set real well with me."

The next step, she said, was "approaching the Board of Mayor and Aldermen about this and explaining my dilemma."

However, "There was an alderman who lived in Village Green (Betty Dick), and she spoke up on my behalf. She said, 'She's been here longer than we have,' and spoke very kindly about my business," Sellars added. "They (continued to) grandfather me in, and I didn't have to take those letters down."

To West End

However, in 1995, "The landlord advised me he was going to rent that space to a restaurant," she said. "So I had very little notification to find me another place, which was disappointing because I really liked that location."

The next move would have staying power — her current location at 133 West End Drive in West End Center, in 1995.

"I drove through West End Center and saw this place available," Sellars said. "It turned out to be an even better location because it's right down from the schools. Children can walk down from the schools to this location."

As for those original "big white sign letters," by the way, "They're on display inside my studio, that's a great place

for them," she said. "We sprayed them purple and put them up

on the wall."

Annexation fears,

incorporation

With Sellars and her husband, Wayne Sellars, first moving from Erwin in Upper East Tennessee to what is now the Farragut area, to Thornton Heights, in 1972, Sellars said they "did not want to be annexed by the City of Knoxville. We knew that was a possibility because the City of Knoxville was creeping out (west) more and more.

"We certainly preferred to be incorporated with the Town of Farragut because we liked the idea of a small town," she added.

However, among a majority of residents in Thornton Heights, "They didn't want to be annexed into the City of Knoxville and they didn't want to be incorporated," Sellars said. "They were happy just being left alone."

She also noted she was "good friends" with Marianne McGill, one of the Town's founders and one of the Board's first four aldermen.

Biz memories, family ties

Merging her Lenoir City studio into the West End Center location not long after moving there, Sellars said she has "an extensive background in teaching and performance and professional dance, dance education."

Having taught "thousands of students for 45 years … that's what I wanted to do more than anything, was teach," she added.

Earning a Bachelor of Arts degree in education at the University of Tennessee, Knoxville, "I'm a member of Dance Educators of America and Dance Masters of America," Sellars said.

Now averaging "100 to 150" students "who mostly want to dance for the love of dance" and not geared toward competitive dance, Sellars nevertheless has "some awesome dance competition teams and individuals," she said. "… And we've had a national grand champion team."

One of those was her daughter, Tracy Sellars Kiumarsi, a former "national grand champion" who has followed in her mother's "dance steps" as an dance instructor at the studio.

Sellars incorporated the business in 1979.