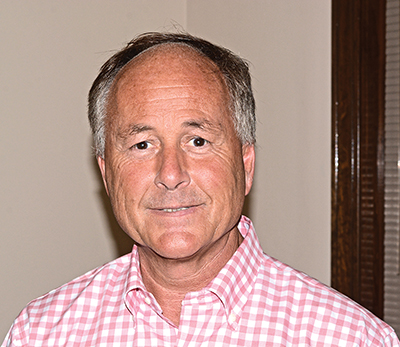 Jimmy Matlock

If the Town of Farragut ever bestowed an "Honorary Citizen" honor upon anyone, perhaps Jimmy Matlock would be the first recipient.

"We've enjoyed getting to know thousands of people down through the years," said Matlock, second-generation owner of Matlock Tire Service, 10730 Kingston Pike just outside of Farragut among its five locations in the Knoxville metro area (a

sixth is set to open soon in Hardin Valley).

"It was a wonderful place to grow up," added Matlock, 60, former Tennessee General Assembly representative from District 21 (Lenoir City and parts of Monroe County). "… We've always considered ourselves a resident of the Town."

A charter member of Farragut West Knox Chamber of Commerce, Matlock Tire Service is one of just four businesses "I've been told, that are still in existence today that began when the Farragut Chamber of Commerce began," he said.
Foundations: 40 Years of Farragut
Jimmy Matlock, second-generation owner of Matlock Tire Service — with "the strongest" of its five Knoxville metro branches located at 10730 Kingston Pike just outside of Farragut — points with pride to employee loyalty. "We have five employees who have been with us more than 40 years," said the former Tennessee General Assembly representative from District 21. "We have 11 with more than 30 years, and 17 more than 20 years. "… We've got four sets of brothers and five pairs of fathers and sons who are still working for us," Matlock added. "… For a small, family-owned business, we find ourselves really unique and blessed." Matlock family members currently with the company include Matlock's son, Joe Matlock; and sister, Kathy Wampler (part-time) "working mostly at our Farragut store," he said. Hear his full This weeks Foundations: 40 Years of Farragut podcast is presented by Matlock Tire Service
Earlier this summer, "I talked to the Town about (the possibility) of [the business] being incorporated" into Farragut, Matlock added.

As for branding in the 1980s, "You had the old school people who refused to even call it Farragut — it was always Concord, until their death," Matlock said.

Town history:

Matlock view

Going back to Farragut Tire Service opening just outside of Farragut in 1980, "We'd like to think we've been a pioneer in the Farragut business community relative to the city," he said, recalling certain former Town "landmarks" from the early 1980s.

"The Russell Dairy, where now it's a Taco Bell (corner of Kingston Pike and Lendon Welch Way at Farragut High School)," Matlock said.

"You had the old Farragut High School, which at that point had been vacated but had not yet been torn down. It was torn down, if I remember correctly, in '83 or '84."

Recalling what was then a popular "Texaco station" in that area along Kingston Pike, "It's where you could go in and get Texaco gasoline, a gallon of fishing minnows and a bologna sandwich, all served by the same who never would wash his hands in-between any of those three," Matlock said with a laugh. "You were likely to come out of there smelling like fish with gasoline on it while you ate your bologna sandwich.

"You had Mr. McFee who started the phone company over here and sold out to TDS, but at that time it was called Concord Telephone Exchange," he added.

In reference to a well-known Farragut High School Class of 1963 graduate, "Doug Horne was coming out of TVA and going into land development. A lot of the Walmarts throughout the country were Doug's projects," Matlock said about the prominent real estate mogul who is founder/owner of Horne Properties, Inc.; Horne Radio, LLC, and Republic Newspapers, Inc., parent company of farragutpress.

"Doug and I became friends early on. He was very ambitious and hard-charging, but a really fair developer," he added. "He saw a lot of things happen throughout the Southeast. He had shopping centers primarily in the Southeast.

"And Doug was very active in philanthropic work."

Though personally having a presence at all Matlock Tire Service locations, "Never did I get away far from Farragut because it's always been our strongest retail store," Matlock said.

About the Town, "It has forever been a fabulous growth area of Knox (County)," he said.

Taking on a stereotype, "People look at Farragut as kind of this little microcosm of wealthy, arrogant people who just happened to move in here from out of the area — just a lot of difficult, snotty-nosed executives," Matlock said.

"It's not at all what Farragut's about," he added. "It gets this image because it's a very wealthy place in some pockets — but others are very much middle class."

Local store history

"We moved into a station that now has been leveled, and an O'Reilly Auto Parts has been relocated there (10870 Kingston Pike)," Matlock said. "It was owned by Bill Weigel."

"I opened the store there, with the help of a gentleman who's still a dear friend of ours named Terry Goodwin, and he and I together operated the store," he added.

Having transferred from Middle Tennessee State University to the University of Tennessee, Knoxville, "to go to night school," Matlock lost his father, store founder Joe Matlock, in March 1982.

With the junior Matlock's mother, Jane Matlock, also involved in the business, "We took a handful of really good, loyal employees — four of them are still with us today — and we moved to where it's now a Walgreens (corner of Kingston Pike and Lovell Road) in July of '82," Matlock said. "… We moved to where we are now in '95."