CUMC's Cantrell co-authors new book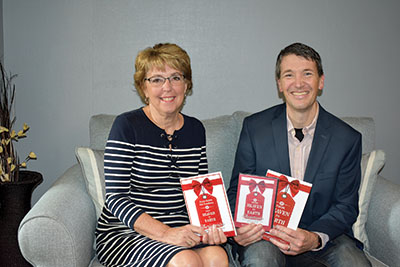 The Rev. Wil Cantrell, right, Concord United Methodist Church's senior associate pastor, has co-written a recently released book, "From Heaven to Earth: Christmas for New Believers, Old Believers and Nonbelievers," while the Rev. Glenna Manning, the church's pastor of Discipleship and Outreach, has authored its study guide.

How do we approach the Christmas story? As long-time Christians, new believers or somewhere in between?

The Rev. Wil Cantrell, senior associate pastor at Concord United Methodist Church, has co-written a book addressing this topic for a wide-ranging audience, just in time to prepare for the holidays.

"From Heaven to Earth: Christmas for New Believers, Old Believers and Nonbelievers," which Cantrell co-wrote with long-time friend and fellow pastor Paul Seay, was released last month, and is available via Amazon, Cedar Springs Christian Bookstore, Farragut Pharmacy and at CUMC.

Cantrell also enlisted the help of the Rev. Glenna Manning, CUMC's pastor of discipleship and outreach, to write the accompanying study guide. A video also is available to supplement the study guide.

Cantrell had written a previous book, "Unafraid and Unashamed: Facing the Future of United Methodism," which was published two years ago. He said he was approached to write that book, and said he agreed to do it on the condition he could chose the topic of his second book, which became "From Heaven to Earth."

Cantrell said he had been thinking of writing the book for some time.

"I began to see in myself and others that sometimes we seem to go through the motions at Christmas," Cantrell said. "You might feel relief that it was over. Or maybe, no matter how hard you tried, you might come away from the holidays wondering if there isn't more to Christmas.

"I looked, and saw a lot of books about Mary and Joseph, and about the shepherds, and the busyness of Christmas, and I looked at Christmas traditions from around the world," he added.

"But I didn't see anything on the core message of Christmas."

Between them, Cantrell and Seay spent about nine months on the book, working to explain and expand on that topic.

"What was really neat was what I had hoped to accomplish was that (Paul) would come up with one idea, I would come up with one idea, but then, together, we would find a third idea, and we were able to do that for the most part," Cantrell said.

The book takes into account the Biblical witness, the questions of skeptics and the faith shared by Christians the world over to address "Did it really happen?" and "What does it truly mean?" according to the book's website.

"In writing this book, we tried to make it accessible to any reader, whether you attend church or not, or whether you have a church background or not," Cantrell said. "We wanted to make the book as one that new believers could pick up, and see questions they may have dealt with in a respectful way, so it could even bless the non-believer."

While the book, study guide and video are available to anyone, Cantrell said CUMC would be using the books in-house this Christmas season during advent, not only as a sermon series, but also in several Sunday school classes and in small group studies.

Cantrell also will be signing the book from 2 to 4 p.m., Friday, Oct. 4, in Farragut Pharmacy, 11424 Kingston Pike.

Cost is $22.95 for hardback, $16.95 for paperback, $14.95 for study guide and $29.95 for a video.