With huge start, West rolls at HVA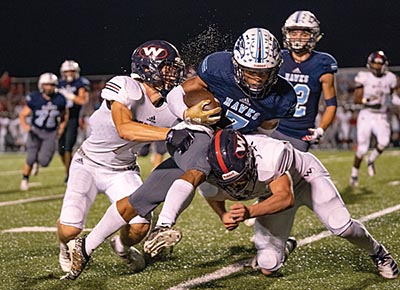 Kelton Gunn, Hardin Valley Academy senior running back, gets sandwiched by a pair of Knoxville West defenders during this "Talons versus Swords" rivalry showdown on HVA Homecoming Night Friday, Sept. 27. West won 52-20.

HARDIN VALLEY — Big plays, in the form of quick touchdowns and forced turnovers, plus strong play along both lines of scrimmage added up to Knoxville West dominance Friday night, Sept. 27, during Hardin Valley Academy Homecoming Night.

Leading 31-0 after one quarter and 45-6 at halftime, the powerful and unbeaten Runnin' Rebels (5-0) cruised to a 52-20 win.

"We got in a hole quickly," said HVA head coach Michael Potter, whose Hawks fall to 1-5. "... It's hard to get out of that."

Hardin Valley highlights included a blocked punt that senior Cameron York recovered in the end zone for the Hawks' first points. "I thought we had several kids pushing hard," Potter said.

Luke Filikowski's 37-yard run set up a 12-yard touchdown pass from HVA senior quarterback Jacob Smith to York. Smith added a 2-point conversion pass to Filipkowski.

Junior Sam Simpson, Hawks back-up QB, found sophomore Matt Abernathy on a 26-yard TD pass on the game's last play.