Mighty Maryville gets rare ET pushback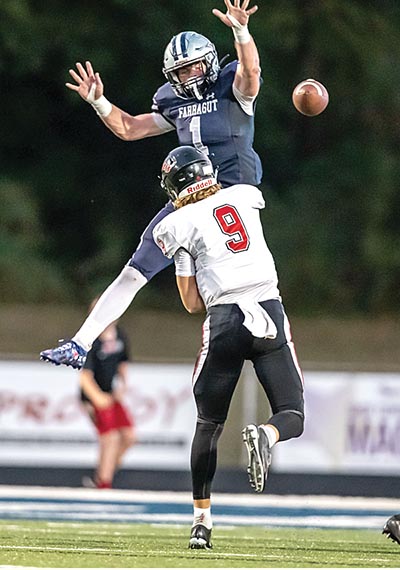 Alec Keathley, Farragut senior outside linebacker (1), goes high trying to deflect this Maryville pass, as the state's No. 2-ranked Class 6A Red Rebels made a rare visit to FHS's Bill Clabo Field Friday night, Sept. 27. Despite an outstanding Admirals effort, Maryville improved to 5-0 with a hard-fought 35-24 win. Farragut fell to 2-3.

Eddie Courtney isn't one to take pride in moral victories. But the longtime Farragut High School football coach certainly couldn't fault his team's effort last week.

"We've had great effort in every game this year and our defense is getting better every week," Courtney said after the Admirals dropped a 35-24 decision to Maryville, the state's No. 2-ranked 6A team, in a non-region tilt before a near-capacity crowd at FHS's Bill Clabo Field Friday night, Sept. 27. "We played with great effort again."

However, "We had a couple of mistakes that killed us," he said.

The miscues were a pair of fumbles, including one in the midst of a big drive. And the Red Rebels (5-0) converted the other into a touchdown.

"Those were at least a 14-point swing," Courtney said

Maryville, which notched its 100th consecutive victory over a team from Knox County (dating back to 2000), got on the board first when Cade Chambers threw a 5-yard scoring strike to Nick Dagel four minutes into the contest.

The Admirals (2-3) would answer when quarterback Gavin Wilkinson scored on a 5-yard run early in the second stanza.

The Rebels used a pair of second-quarter touchdowns to open a 21-7 advantage as Chambers connected with A.J. Davis on a 6-yard scoring pass and Parker McGill added a 14-yard touchdown scamper in the half's final minute.

But the scoring wasn't finished, as the Ads pulled to within 21-10 when Simeon Sharp kicked a 31-yard field goal as time expired.

Farragut got the ball after halftime and drove the ball 71 yards on 10 plays, scoring when Wilkinson tossed a 10-yard TD pass to Isaiah Arrington.

Wilkinson completed 22-of-28 passes for 277 yards and a touchdown with two rushing scores — the last a 4-yard run with 3:04 left in the game to make it 35-24. "Going into a game (such as Maryville) people are scared, but the coaches told us what we had to do to win this game," Wilkinson said. "We gave a great effort and we've just got some things that we still need to work on."

Tight end Alec Keathley and Judah White had six receptions apiece. Hunter Shopovick finished with 90 yards on five receptions.

Sam Kniss and Gabe Hensley each had 13 carries. Kniss finished with 72 yards, Hensley 47.