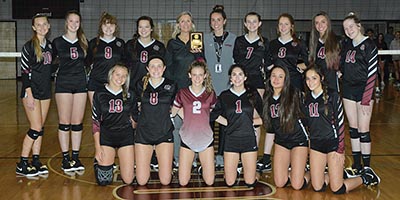 With her happy Concord Christian School volleyball team around her, Carmen Hochevar, CCS head coach, proudly holds the "Courtside at Concord" champions plaque earned Saturday, Sept. 28.

Concord Christian School's volleyball team earned a championship plaque Saturday, but the Lady Lions are hoping that's the first of many title trophies for 2019.

CCS, which reached the Division II-A state championship match last year in Murfreesboro, won the Gold Division title at the Courtside at Concord Tournament Saturday, Sept. 28, at CCS.

The Lady Lions, who will be the top seed in the upcoming Division II-A East Region District 1 Tournament at Grace Christian Academy, swept Chattanooga Girls Preparatory School 25-15, 25-16 in the tournament that featured some top teams from the Knoxville Area, Jefferson County and Chattanooga.

The host team made short work of Karns, Bearden and Farragut before being pushed to three sets against Jefferson County in the semifinal round.

Mikayla Profeta gave Concord a huge lift with her service game, six straight points, for a 19-12 lead in game one versus GPS — including three consecutive service aces. Sydney Petersen also had a pair of late points to help the Lady Lions win the first set.

"So it was good to see them play and win this match in a regular situation," CCS head coach Carmen Hochevar said. "We saw some great competition here today against some great teams and that will only help us get better. Now, we have to get ready for our district (tournament)."

Sophomore outside hitter Annabelle Sulish was a force at the net all day long.

"We saw some great teams and this will get us ready to play a faster pace of volleyball," Sulish said.