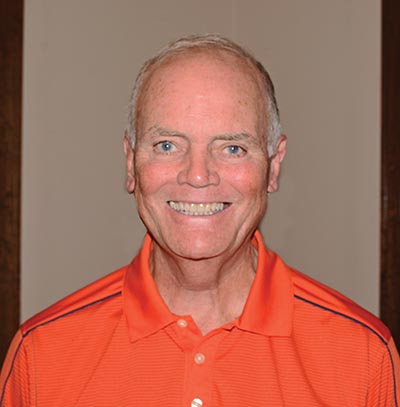 John Griess III

A former teacher and coach at Farragut High School, while licensed as a Realtor for more than 40 years and currently a commercial broker, John Griess III entered Town of Farragut politics in the mid-1980s.

It was his first elected office venture.

As for throwing his hat into the ring as a candidate for South Ward alderman in April 1985, "I think it was because nobody else was running," said Griess, serving South Ward from 1985 to 1994 who also served on "volunteer boards" previous to his run. "I was interested … but it was not like it was an obsession with me."

Admitting he didn't have to work hard during his campaigns, usually running unopposed, "I didn't have to raise money, I didn't have to ask anybody for votes," he said. "… I thought, 'this is pretty cool.'"

However, "I'm the poster boy for running unopposed and almost getting beat," Griess said. "… I got 88 votes and somebody (got) 66 (write-in) votes. It was really dang close.
Foundations: 40 Years of Farragut
A former business/accounting teacher at FHS from 1973 to 1982, John Griess also served as head coach of the baseball team for a few years in the 1970s. He also was an assistant football coach. However, "After 10 years of teaching, it was clear to me there were a lot of things that I'd like to do in my lifetime that I couldn't do on a $15,000-a-year salary, which is what I was making my 10th year of teaching," said Griess, a Town of Farragut South Ward alderman from 1985 to 1994. "So I said, 'I've got to figure out how to improve on this." Currently a broker with Holrop Commercial Realty, Griess went from part-time to full-time as a Realtor when retiring from coaching and teaching at FHS in 1982. Griess went on to serve on Knox County Commission, representing the 5th District (including Farragut) from 1994 to 2007. "I like politics," said Griess, whose father, John Griess Jr., was a City Councilmen in Oak Ridge, where Griess grew up. "His dad, my grandfather (John Griess Sr.), ran for office some point in the distant past. … So there's a little legacy there if nothing else." This weeks Foundations: 40 Years of Farragut podcast is presented by Monterey Mushroom
"The only reason I think I won that one is because one of my friends came up and said, 'There's a woman running who is bringing people in here; and if you don't start getting some people in here yourself, you're going to lose,'" he added about the election-day warning.

"We spent the next two hours calling people to make sure they voted."



Observations on BOMA

Still roughly six years away from moving into the current Town Hall location, 11483 Municipal Center Drive, when Griess first was elected in 1985, "We were meeting basically in a dairy barn," Griess said of the former barn, razed in recent years, which was behind Campbell Station Inn near the corner of Kingston Pike and North Campbell Station Road.

As for traffic, "When I first got on the Board, there was one traffic signal in Town … the first light was down there at Concord Road (and Kingston Pike)," he said. "The old Russell's Grocery Store was right there, and (Farragut) Cleaners, which is still there.

"The second light was Kingston Pike and Campbell Station Road, which was in 1985," he added. "Each of these lights costs a bunch of money for a Town that didn't have a great, big budget.

"The third one was at (Kingston Pike) and Farragut Crossing, right across from Ingles. The third light was approved in 1987."

As for admiration, "My lasting first impression was how eloquent (the late Mayor) Bob Leonard was when it came to talking," Griess said about the Town's first mayor (1980-1993). "He was a lawyer by trade, of course. When he spoke, he spoke succinctly and eloquently and used his hands a lot."

About his first vote on BOMA, it involved an ordinance to require "personal, individual swimming pools to be fenced in," he said. "I voted against that just because I've always been a huge private property rights fan.

"Looking back, it was one of the stupidest votes I ever took," he added.



Developers vs. Town

battles: then, now

The well-documented battles between developers and Town of Farragut officials already were under way at this time.

"From the time I quit teaching until this particular election, Realtors were bad-mouthing the Town of Farragut about their sign ordinance," Griess said.

"At least in the eyes of a certain segment of the real estate community, the Town was just terrible to work with."

However, in 2019, "I sense

the Town is trying like crazy to become more friendly to business for a lot of reasons,"

Griess said.

For example, he cites TopGolf's recent tentative agreement to open in Farragut along Outlet Drive. "Twenty-five years ago, the idea of being able to come in and getting a new zoning district approved, with the cooperation of the Town … would have been unheard of," Griess said.

"My sense is David Smoak (Town administrator) has done a great job, and Mark Shipley (Community Development director) has done a great job."



Other accomplishments

Griess comments on

the following list of Town accomplishments:

• "I think I took the lead on this because I knew these people. we were able to negotiate with Rural/Metro a franchise agreement with the Town that put caps on what type of annual premium increases Rural/Metro could have. … That was good for Rural/Metro, and it was good for the citizens, at least the subscribers inside the Town.

• "Willow Creek Golf Course was developed, and that took some work with Brian Testerman. But it's a beautiful asset for the Town now."

• "We started the acquisition of Mayor Bob Leonard Park along Watt Road."

• "We had Concord Hills wanting to get annexed into the Town. … We annexed people who wanted to come in."

• "We authorized and funded the new Town Hall."

• "I recall one constituent who wore me out … he had one issue. (Similar to Griess) He also lived on Turkey Creek Road and he wanted a traffic light at Concord Road and Turkey Creek Road.

"Once that occurred, he was happy. I never heard from him again."