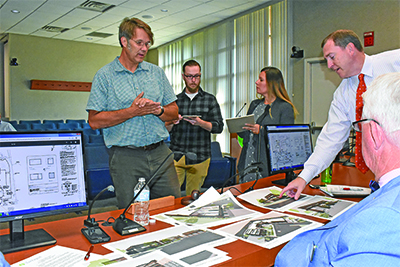 Brian Nicholson of Studio Four Design, at left, lead architect working on the Phillips 66 site, shared some updated preliminary plans with Farragut officials and Town staffers during the regular Staff/Developer meeting Oct. 1. At right is Town administrator David Smoak, and, center, are Brian Russell and Kim Firkins, both of Studio Four Design.

Plans for Admiral Landing are scheduled to be on the upcoming Farragut Municipal Planning Commission agenda Thursday, Oct. 17.

Brian Nicholson of Studio Four Design shared several prospective drawings with Town staff and officials Tuesday, Oct. 1, during the regular Staff/Developer meeting, which went into a little more detail of what owners Doug Justus and Carols Cortez have in mind for what was the former Farragut Phillips 66 convenience story at the corner of Kingston Pike and Campbell Station Road.

"It is a unique project," Community Development director Mark Shipley said. "What they are proposing are plans for an indoor food truck with spec spaces west and north of the building."

One separate building would house rotating food trucks, while other buildings could potentially offer a brewery, an ice cream shop or other retail options based on earlier discussions.

The plans Nicholson shared were drawn up after a separate meeting the day before between the architects, Town staffers

and Town Fire Marshal Dan Johnson.

Nicholson said based on those comments, the Oct. 1 plans were quickly put together, to address concerns regarding proper ventilation and other potential hazards, which might be posed based on the earlier plans.

"There are challenges with the concept," Shipley said.

Nicholson said one of the biggest issues facing the design "is the roof."

Shipley said new plans would likely be submitted for the Oct. 17 meeting.