While Mancini is crowned, most 'Senior' of KCHS grads at 99, Margaret from Class of '37, honored at game.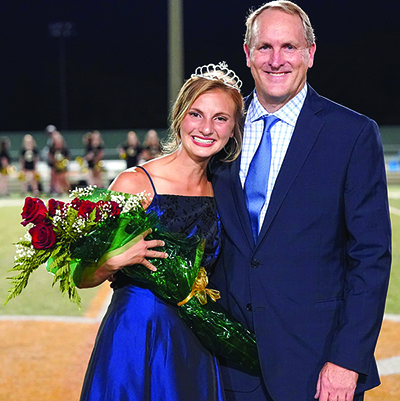 Knoxville Catholic High School senior Eleanor Mancini was crowned 2019 KCHS Football Homecoming Queen Friday, Sept. 27, during halftime of the Irish varsity game versus Johnson City Science Hill in Blaine Stadium. She was escorted by her father, Dr. Matthew Mancini.

While Knoxville Catholic High School crowned one senior, 2019 Football Homecoming Queen Eleanor Mancini, KCHS celebrated its oldest living graduate Friday, Sept. 27, during Homecoming Night festivities.

Margaret Meehan Vance, who graduated from Catholic in 1937 and will celebrate her 100th birthday in April, received the Irish Legend Award on the 20-yard line of the Blaine Stadium field following the first quarter of the game — which Catholic won 48-17.

She was driven out onto the field in a golf cart by KCHS president Dickie Sompayrac, and many of her family members — including daughter, Ellen Vance O'Shea; son, Paul Vance; along with nieces, nephews cousins and friends — were on hand for the celebration.

"I was so impressed and touched by how they took such good care of mom," O'Shea said. "They had the golf cart ready and met me at my car. They just could not have done it with any more care or concern."

Vance smiled and posed happily for pictures both on and off the field.

"She is our family's historian," niece, Margie Floyd said. "We take her to lunch, about every other month, and she always orders, 'One beer, please.' And she just talks and talks.

"She is just so precious."

A short video posted by the school on Facebook promoted Vance and her Irish Legend Award honor leading up to Homecoming. In it, she described living close to the former campus, along Magnolia Avenue, and how she walked to school every day.

She was among the school's earliest graduates, as it graduated its first class in 1934, O'Shea said.

Vance lives in Oak Ridge, where she worked during her professional career, which included serving as a secretary for Clinton Engineer Works, which produced materials for the Manhattan Project.

Before marrying Jack Vance in 1945, she also worked at St. Mary's Hospital and the Tennessee Valley Authority.

The couple was married for 50 years, until Jack's death in 1996, and had seven children — all of whom graduated from her Alma Mater. "It wasn't always easy for them — Catholic was still on Magnolia in Knoxville, but they got all of us kids through school there," O'Shea said. "They were always persistent in their faith."

Vance attends the KCHS Golden Grad brunch each year, according to school officials, and will be further honored there next spring, near the time of her 100th birthday.