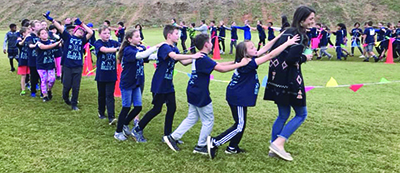 Farragut Intermediate School students, faculty and PTA members joined last year's FIS Anchors Aweigh Fun Run. This year's run to raise money for the school is from 8:30 a.m. to 2 p.m., Thursday, Oct. 24, in the lacross field behind FIS.

Farragut Intermediate School students soon will be on the run to raise funds for their school when FIS's Parent-Teacher Association hosts its 3rd Annual FIS Anchors Aweigh Fun Run.

Scheduled from 8:30 a.m. to 2 p.m., Thursday, Oct. 24, on the lacrosse field behind FIS, the Fun Run is "an all-volunteer run event, and 100 percent of the net proceeds will stay at Farragut Intermediate School," event chairwoman Robin French stated in a recent letter to parents. "The PTA will use the funds to continue to focus on technology by purchasing Chromebooks, Active Boards and new laptops for some teachers.

"We would also like to provide upgrades to the playgrounds, purchase physical education equipment, art supplies and science kits," she further stated.

This year's goal is to raise $25,000 from the Fun Run, French said. The students collect pledges per lap then run laps in the event and "have fun," she explained, adding each child will run up to 30 laps around a course set up on the field.

"Your child may ask family, friends, neighbors, etc. to sponsor him or her on a per lap rate or to make a flat donation," she added. "We expect each student will run the full 30 laps (or very close to it)."

Anyone wishing to make an extra donation and give a child an extra boost, may purchase an optional "shout out" for a child, which is a special message for a student that will be announced during the run. The cost is $20 each.

Deadline to purchase "shout outs" is Wednesday, Oct. 23. Additionally, donors may purchase a space on the fence at the school to display a sign for a child for $20, French stated.

"We have several things planned to energize the kids and keep them running strong, including a deejay (from Knox Knocks), emcee and other surprise guests," she further stated. "Several corporate and other sponsors have made it possible to provide every child at FIS with a free T-shirt to wear on the day of the run, as well as water and a healthy snack after the run."

The deejay will provide music and get students excited about the run, and Core Change Fitness of Farragut will help participants warm up before the event and stretch afterward, French said.

Students may get sponsors through Oct. 24, and sponsor donations will be accepted until Friday, Nov. 1, via cash or check, made out to FIS PTA, or by paying online at https://app99pledges.com/fund/farragutin.

French said there are no credit card or processing fees for paying online.

"You can also share our online option with family and friends to get sponsors and collect payments," she added.