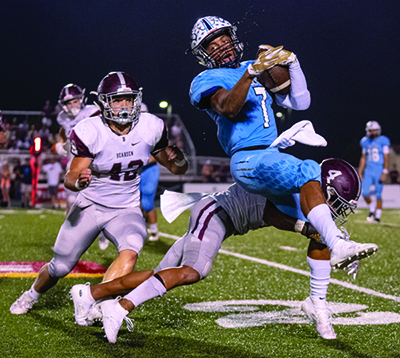 Bearden cornerback Julian Kendrick cuts down Hardin Valley Academy runner Kelton Gunn as Dawgs linebacker Ty Seritt (42) reacts. In a back-and-forth battle of big plays for three quarters, Bearden's defense stiffened, preventing the Hawks from reaching the BHS red zone in the fourth quarter.

HARDIN VALLEY — Makai Williams' breakaway speed finally paid off in a Bearden victory. The talented junior running back's long touchdown runs of 76 yards, around the left end in the second quarter, and 68 yards, around the right

end in the third quarter, made the difference.

"... We changed the whole structure of our practice, and we've really been working on blocking and opening up those holes for me," Williams said as Bearden won 34-28 at Hardin Valley Academy Thursday, Oct. 3.

Meanwhile, a strong Bulldogs defense during the game's final 12 minutes did not allow the Hawks inside the Bearden 40 in the fourth quarter.

While grabbing its first of 2019 — and first ever at HVA — on "Rivalry Thursday," BHS is 1-5 overall, 1-1 in region. The Hawks fall to 1-6, 0-3.

Collin Ironside, Bearden senior quarterback who played in just his second game since early in the season following an ankle injury — his first career injury — ran 22 yards to put the Dawgs up 7-0 early. Avenging a one-sided loss at HVA last season, "The leaders on this team, the guys who were here last year, weren't going to let that happen again," Ironside said.

But a pair of Jacob Smith passes to Cameron York covering 36 yards, plus a pass interference penalty on a York target, set up senior Kelton Gunn's 34-yard scoring run as Hardin Valley tied the game 7-7.

A Jaylen Moore interception of a BHS screen pass, off a deflection, at the Bearden 29 set up the Hawks' go-ahead score. Gunn's 8-yard jet sweep touchdown made it 14-7 Hardin Valley late in the first quarter.

The Bulldogs recovered a muffed punt at the HVA 35 and tied the game on Seth Arana's 3-yard TD run.

Hardin Valley then went 65 yards to reclaim the lead early in the second quarter, boosted by Smith's 49-yard pass to receiver Braden Schloff. Gunn scored from 6 yards out to make it 21-14.

A Luke Filipkowski minus-4 hit helped Hardin Valley hold on downs at the HVA 27. But Williams' 76-yard run tied it with 4:47 left in the half.

A Hayden Candela 35-yard punt return set up Conner Cross' 34-yard field goal for a 24-21 Bearden halftime lead.

The Hawks went 54-yards to take the lead again, as Schloff went up over a Bulldogs defender for a 32-yard TD reception from Smith. Garcia's fourth extra point of the game made it 28-24 with 3:07 left in the third quarter.

Only 20 seconds later, Williams raced 68 yards to put BHS up for good. A 39-yard Cross field goal with 10:39 to play extended the lead to 34-28.

Ty Seritt's interception stopped HVA at the Bearden 45 with 6:06 to play.