The Goddard School in Farragut students choose Preschooler-Approved Top 10 Toys of 2019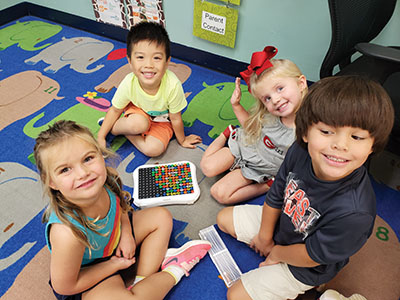 The Goddard School in Farragut students, from left, Kate Brownlow, Jesse Wang, Harper Davidson and Ayden Chan were among the students who tested toys.

Students at The Goddard School in Farragut were the first to get their hands on Goddard Corporation toys as testers in the school's 12 Annual Preschooler-Approved Toy Test.

"To help families with their holiday shopping, all children at participating Goddard Schools (of which the Farragut campus was one), which conducted the toy test from Sept. 16 through Friday, Sept. 20," said Chantese Wright, educational director for Goddard School.

They tested toys from V-Tech, Leap Frog, Play Monster and Manhattan Toy Company, among others.

"We got great feedback," Wright said. "All of the children enjoyed exploring new toys, and we even overhead some children asking their parents to buy some of the toys for them.

"The children's favorite toy was the Orangutwang, chosen by both of our pre-k classes," she added. "It is a fun, suspenseful and wild game."

Children tested out some of this year's top toys, then votes were tallied to determine the official Preschooler-Approved Top 10 Toys of 2019.

Besides having fun, the testing offered an educational experience to help children "develop important lifelong skills through play-based learning, Wright said. "Children explore, experiment with and evaluate a range of classic, creative and STEAM-based toys from leading manufacturers and then chose their favorites.

"Additionally, children help provide insight into both the educational and 'fun' value of some of the most exciting new toys."

For more than 30 years, Goddard School, locally at 125 Loudoun Road, has served children from 6 weeks to 6 years old. Its play-based program provides innovative learning, according to the school's website. 

"Our students enjoy being able to participate in this toy test ... getting to experience them with their friends," Wright said.

Goddard was one of the schools selected by Goddard Corporate to participate, she added. While the testing is an annual event, she said schools are selected through an internal process. "They pick 12 schools out of over 500 schools to participate in this test each year," she said. "Every year different Goddard preschools throughout the country are invited to participate.

"This is our 12th year, and The Goddard School in Farragut was selected along with 49 other Goddard Schools across the country to participate," Wright added, noting there were more than 500 Goddard Schools from which they picked. "The teachers did observations with each of the toys, and the students chose which was their favorite."

As for length, "We run the Toy Test experiment for one week. At the end of the week is when the teachers discuss with the students which toys they enjoyed and were their favorites," Wright said.

He added the Toy Test Committee selected toy finalists based on toys that: encourage interactive, child-initiated play; inspire creativity and collaboration; support skill development and learning; maintain a child's creative interests over time; meet the GSI's health and safety standards; and retail for $40 or less.