'Rivalry Week' warm-ups: Ads stumble, BHS rumbles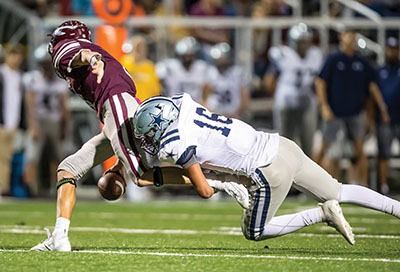 Dylan Cosey, FHS sophomore linebacker, sacks Kingsport Dobyns-Bennett quarterback Zane Whitson.

KINGSPORT — Just when Bearden is heating up after an 0-5 start while beset with numerous injuries — having won two straight Region 1-6A contests — rival Farragut is coming off its first one-sided loss of the 2019 season.

With a deadly balance of physical running and crisp passing, not to mention critical FHS turnovers, the Indians (7-0, 3-0) beat the Admirals (3-4, 2-1) 38-13 in a battle of region unbeatens at KDB lsat Friday night, Oct. 11.

"They played well. They had us on our heels most of the night," Farragut head coach Eddie Courtney said. "... They're complete, they can run the ball and they can throw the ball.

"Defensively they're very sound, they're not going to give you much," he added.

"We had some turnovers we didn't convert on, other times we had breakdowns — and you can't beat a good football team doing that.

"That's why they're undefeated."

The Bulldogs, meanwhile, prepared for their "Rivalry Thursday" trip to FHS's Bill Clabo Field tonight (Thursday, Oct. 17) with a 42-22 drubbing of region foe Jefferson County (3-5, 1-2) at BHS's Bill Young Field last Friday.

Opening kickoff for tonight's so-called "Battle of West Knox County" is 7 p.m., as the Bulldogs look to win two games in a row against Farragut for the first time since 2000 and 2001.

The Admirals had won 18 of the past 20 games in this rivalry series, including three of four in the playoffs, until Bearden used a fourth-quarter touchdown and a late red zone defensive stand to edge the Admirals 17-13 last season at Bill Young Field.

Dobyns-Bennett 38 Farragut 13

An 18-yard scoring pass from Farragut senior quarterback Gavin Wilkinson to senior receiver Alec Keathley, on fourth down, answered an early KDB touchdown — but the Admirals would not score again until the issue was basically settled.

Hunter Shopovick, senior receiver, hauled in a beautiful post pattern pass from Wilkinson early in the fourth quarter, finishing off a 79-yard TD pass play to account for the other Farragut points.

"They're a very good team," Shopovick said. "We prepared all week, but I felt like we made too many mistakes — mental mistakes — and we didn't play as a team like we have been, ever since Maryville brought us together (35-24 home loss to the state's No. 2-ranked Class 6A team Friday, Sept. 27).

"I thought at times we did a pretty good job in the trenches coming off the ball, moving the ball," Courtney said. "But at other times we didn't get it done."

Season statistics

Defensively for the season (seven games), Farragut leaders in total tackles are Eli Purcell (53), Gabe Hensley (51), Jackson Fontenot (44), Camden Kuhn (34), Andrew Doane (32), Dylan Cosey (29), Trey Nesbitt (26), Logan Foody (25), Dawson Brown (24) and Keathley (23).

Offensively for the season, Keathley (41 catches for 501 yards and six touchdowns) and Shopovick (29 catches, 508 yards and one TD) lead all receivers.

Wilkinson is 116-of-189 passing for 1,522 yards with nine touchdowns and four interceptions.

Though having missed the past four games due to injury, junior running back Matt White still leads the Admirals in total rushing yards (374 yards on 66 attempts and three touchdowns), followed by junior Sam Kniss (52 carries for 240 yards with one TD).

Hensley leads all runners in touchdowns with five, having rushed 27 times for 144 yards.