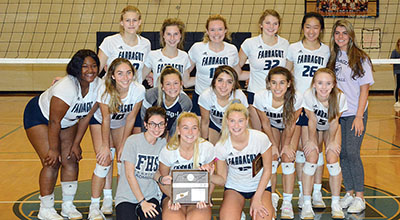 Farragut team with their District 4-AAA Tournament runner-up plaque Thursday night, Oct. 10, at Hardin Valley Academy.

HARDIN VALLEY — The Farragut High School volleyball team would have liked a better showing in the District 3-AAA Tournament championship match.

The Lady Admirals were swept by third-seeded Maryville 25-15, 25-14, 25-20, but they already were exhausted by the time that match started.

Although a district title would have been nice, FHS assured itself of a Region 2-AAA Tournament bid when it eliminated top-seeded Heritage in a five-set marathon Thursday, Oct. 10, at Hardin Valley Academy.

Farragut (20-16) outlasted the Lady Mountaineers 26-24, 25-22, 25-27, 25-27, 15-13 in a match that lasted two-and-half hours. Heritage and the Lady Admirals met earlier in the week in the winners' bracket semifinals, and Farragut, the tournament's fifth seed, prevailed in a five-setter that lasted more than three hours.

"This was the second time this week that we've played them and they took us to five (games)," longtime FHS head coach Susan Davidson said. "That's a tough feat. I'll be honest, after five games (in the elimination match against the Mountaineers), I've never been so proud of my girls and the team and the coaches that work with me because we exerted a lot of energy.

"That was back and forth (and) back and forth, that's a lot of energy — and then to have to turn around and play a team that went home yesterday about 5 o'clock and was rested," the Lady Admirals coach added.

Farragut was anything but rested for the title tilt. Maryville bounced the Lady Admirals into the losers' bracket and forced FHS to take the long road to the final day.

The five-set victory over the Lady Mountaineers netted Farragut a trip to the Region 2-AAA Tournament (which was played Tuesday night, Oct. 15, at Oak Ridge. Results were not available at press deadline).

Farragut won the first two games only to see the Lady Mountaineers stave off elimination by capturing games three and four.

But the Lady Ads overcame a 10-4 deficit in the fifth set to prevail and move on.

"It's been a long time," Maryville head coach Angel Babelay said of her team's title. "I want to say that it was before 2000."

Farragut returns to regionals after missing out last year, and junior libero Reese Schroeder was excited to be headed there.

"It's great to beat Heritage because they are one of our toughest competitors in this district," she said. "And we're excited to be playing against Oak Ridge because they're such good competitors, too, and we want to get them, too.

"The win against Heritage is a big win."

Schroeder finished the championship match with 34 digs and 10 assists and was named to the All-Tournament team along with senior Lauren Loveday, who had six kills against Maryville.

Sophomore Kate Priest also had six kills. Junior setter Megan Carlton finished with 50 assists while Ashley Hilbelink dished out 24 assists.

The assist numbers were big according to Davidson.

"When you have that many people with that many assists, that shows that we're doing something," she said.